World number one Rafael Nadal is in danger of missing out on the year-ending ATP World Tour Finals, starting November 12 in London after he suffered a knee injury on Friday (November 3).
Nadal was forced to pull out from the ongoing Paris Masters before his quarter-final match against qualifier Filip Krajinovic. He was eyeing his first title in the Masters 1000 tournament and was favourite after second seed Roger Federer withdrew from the action, citing back issues.
Notably, the Spaniard, who had sealed the year-ending top spot with his second round win over Hyeon Chung on Wednesday (November 1) played with heavy strapping on his right knee during his 6-3, 6-7, 6-3 win over Pablo Cuevas in the round of 16 on Thursday.
While expressing disappointment over missing out on a Paris double following his French Open win earlier this year, Nadal revealed he will do his best to feature in the prestigious Tour Finals, but also said a decision would be taken keeping the future in mind.
"It's not about London, it's about the longer term. It's important to play tennis as long as possible. The knee is always bothering me a little bit but sometimes it's worse," Nadal said on Friday, as quoted by "The Guardian".
He added: "Of course it [withdrawal from Paris Masters] is a very tough decision for me, especially here in Paris, which has been the most important city in my career without a doubt. It's a tough situation but I tried my best. I did one treatment yesterday night to try and play today."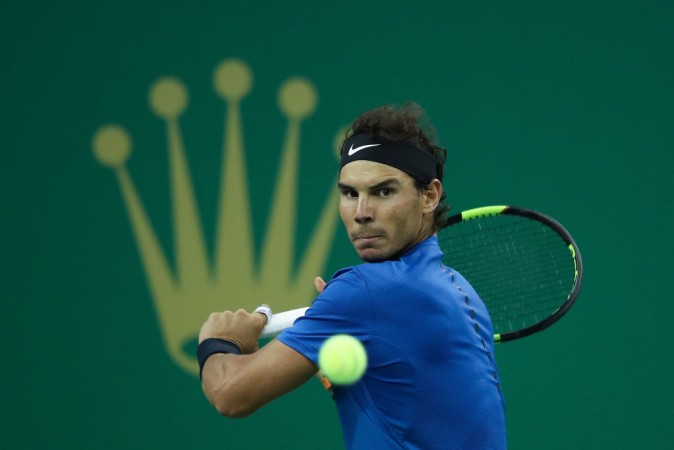 'Sceptical about London Finals'
Paris Masters tournament director Guy Forget revealed Nadal was not at his best when he landed in French capital city and also spoke of his chances of playing the Tour Finals.
"He [Nadal] just started to move around the court again when he got here [Paris]. I think I know that he is sceptical on his chances to play in London," Forget said, as quoted by "Reuters".
Nadal has already made sure he would finish the year on top of the ATP Rankings and thus he will not be expected to push himself too much to feature in the year-ending event in London.
He will be well aware of the importance of taking a break as the time he spent away from the game towards the end of last season to recover from a wrist injury helped him get back to the best after two years of Grand Slam drought.
Nadal, who started 2017 at world number nine, won his 10th French Open title, his third US Open title and also reached the final of Australian Open, in which he lost a five-set final to Federer.