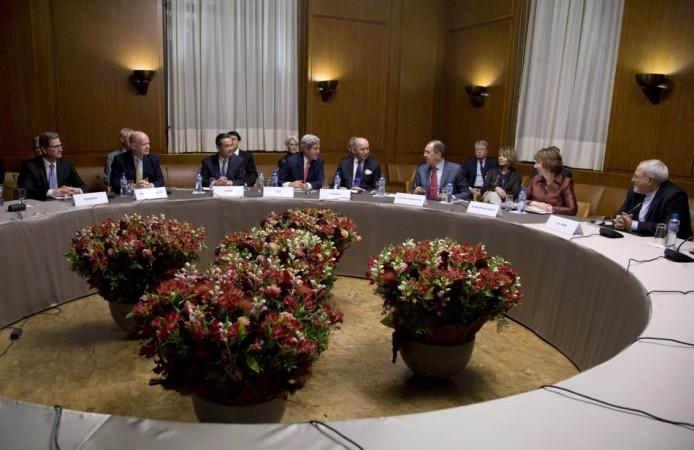 Even as the six world powers see potential in the Iranian nuclear deal to resolve a decade-old global standoff following intense negotiations, India is unlikely to benefit from the agreement that would see Iran curb its uranium enrichment programme in exchange for a lift on the sanctions by the European Union.
Under the historic accord, signed between Iran and P5+ 1 (the US, the UK, Russia, China, France and Germany) group of countries, the west-Asian country cannot have its uranium enrichment beyond five percent.
Iran also agreed to an unprecedented transparency in its nuclear programme by providing a daily access to the IAEA (International Atomic Energy Agency).
In response, the Geneva agreement releases $4.2 billion Iranian oil sales revenue from frozen accounts, which had crippled the Iranian economy. Also, the deal suspends restrictions put on the Iran's trade in petrochemicals, gold, car and plane parts.
However, India, which had trimmed down on its crude oil imports from Iran by more than 26.5 percent last year, will continue to abide by the trend despite the Geneva agreement.
India's raison d'être is the US fact sheet that justifies the sanctions continued to have been imposed on the west-Asian country, reported PTI.
"Sanctions affecting crude oil sales will continue to impose pressure on Iran's government. Working with our international partners, we have cut Iran's oil sales from 2.5 million barrels per day (bpd) in early 2012 to 1 million bpd today, denying Iran the ability to sell almost 1.5 million bpd," the fact sheet said.
"That's a loss of more than $ 80 billion since the beginning of 2012 that Iran will never be able to recoup. Under this first step, the EU crude oil ban will remain in effect and Iran will be held to approximately 1 million bpd in sales, resulting in continuing lost sales worth an additional $ 4 billion per month, every month, going forward," it added.
And even though Iran acknowledged India, earlier this month, to be part of the Iran-Pakistan gas pipeline, the nuke deal would not give a fresh lease of life to the project.
"We can see issues in terms of the oil and gas pipeline, we will take it to the later stage because there are issues related to that, which are of longstanding nature as they deal with commercial and financial aspects," Syed Akbaruddin, spokesperson at the Ministry of External Affairs, told NDTV.
One relief from the nuke deal, though, is the lifting of the ban on insuring tankers in which Iranian crude oil is exported. The European law had invalidated the insurance on accidents such as spills or collisions, which could now help Indian refiners import volumes of Iranian oil easily.