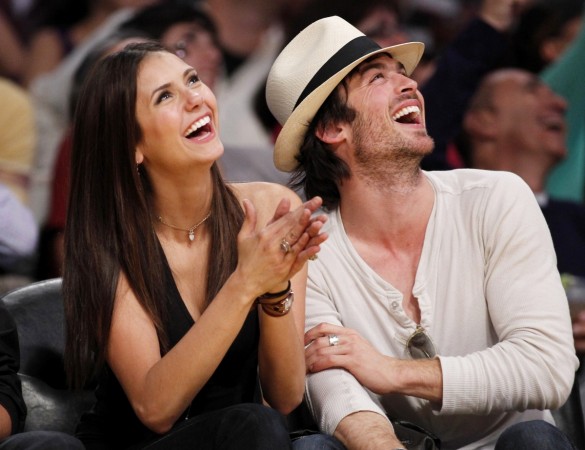 "Twilight" star Nikki Reed is reportedly worried about her fiance Ian Somerhalder's relationship with his ex-girlfriend and "The Vampire Diaries" co-star Nina Dobrev.
A recent article on celebdirtylaundry claims that Reed is worried about a possible reunion between Somerhalder and Dobrev and hence has urged the actor to quit the show.
Although it is not clear whether the actor will make an exit from the show or not, he does not seem to be very optimistic about the future of Damon and Elena romance.
Earlier, the 36-year-old revealed that there is bleak possibility for an onscreen romance, so Delena fans might not see them together in the near future.
Meanwhile, there is buzz that Dobrev is planning to quit The CW series for a movie career and if the speculations are to be believed then the future of "The Vampire Diaries" is at stake.
However, the website stated that the ongoing dispute between Somerhalder and Dobrev could affect the ratings of "The Vampire Diaries" as fans might lose their interest in watching their forceful romance onscreen.
The report even claimed that The CW might cancel the supernatural drama if the show starts struggling with low rating and dark plot lines. So it remains to be seen whether the speculated feud between Somerhalder and Dobrev will turn-off the viewers or not.