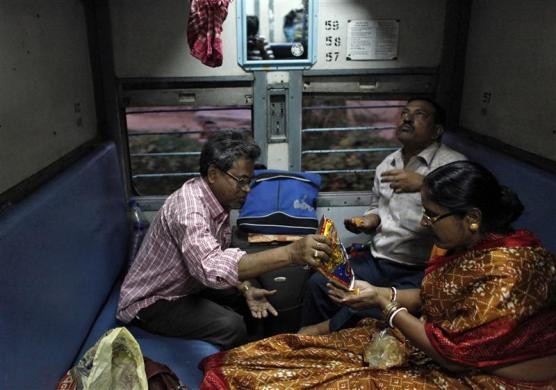 Railway Minister Sadanand Gowda played safe by coming with a balanced budget, however, his ministry would be judged on its capability to implement the proposed projects, which the previous government failed at.
Gowda has tried to bring out a somewhat balanced budget by being critical of the losses incurred by the Indian Railways and by giving what the commuters demanded—safety and good services.
People from Bihar, Mumbai, Delhi, Lucknow, Chennai and other parts want better provisions in exchange of the hiked rail ticket fares. They were reported complaining about the food, safety, cleanliness, trains getting late and infrequency, which the previous government failed to provide even after making commitments in the last year's budget.
He said that the commuters' feedback would be collected through Interactive Voice Response System, and it has to be noted that the UPA government too tried to implement something similar. But almost one-third were unaware about the facility while many others who knew never used it.
Gowda proposed to introduce ready-to-eat meals of reputed brands and to set up RO drinking water units in trains and railway stations with the help of NGOs, trusts, charitable institutions and corporates. And if the contractors are caught providing unhygienic food to passengers, their contract will be cancelled, Gowda added.
Another thing that the NDA ministry offered in the 2014-15 budget is escalators, lifts and battery-operated carts in major stations to provide a smooth journey to the differently abled people. These proposals were also made by the UPA government in the 2013-14 budget, which has not been implemented successfully on all the A-1 stations. The A1 stations are those which annually earns more than ₹50 crore.
Also, if some of the stations have these facilities, they are not sufficient. Chennai Central railway station has just two battery carts for both differently abled and senior citizens, according to news reports. The ministry however, failed to introduce a proposal to avail e-tickets for the differently abled.
Gowda proposed a plan to recruit 17,000 RPF constables to ensure security in trains and stations and 4,000 women constables for ladies coaches. He added that an additional care would be taken to ensure safety of women travelling alone in all coaches.
In 2013-14, the UPA government proposed to reserve 10 percent vacancies for women constables to be deployed in the trains. However, it was not very successful, which is also evident from the records of crime in the railways. In a report by National Crime Bureau, crime rate in railways has gone up by 13 percent in 2013 from 2012.
UPA has left Modi-government with 359 pending projects worth ₹5 lakh crore. Along with the other proposed plans by Gowda, he needs to complete the reigned projects from the previous government. It is really necessary for the Modi-government to fulfil the demands of the people who has been shown the same trailer in the last Railway Budget Session, most of which lays untouched.