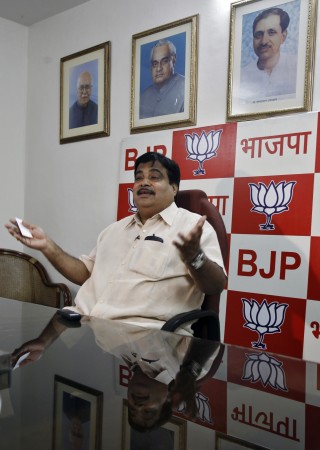 As the decision over Maharashtra government and its leader has been postponed to after Diwali, state BJP leaders have begun lobbying for the Chief Ministerial position and have projected Minister of Road Transport and Highways Nitin Gadkari against frontrunner Devendra Fadnavis.
Gadkari's aide and former Maharashtra BJP chief Sudhir Mungantiwar said he along with other state party leaders would like to have Gadkari back into state politics.
"Why shouldn't he come back to the state. He has contributed so much to the state and loves the people of Maharashtra. We know that he is holding an important post in Delhi and the entire country will benefit from that, but we will speak to him and persuade him to come to Maharashtra," Daily News & Analysis quoted Mungantiwar as saying.
Adding that he would be the best choice at the present political scenario in the state, Mungantiwar said "every leader and worker of the BJP wants Gadkari to return to the state. He would make a perfect CM," Hindustan Times reported.
As BJP is uncertain of the present political scenario under which, on the one hand, BJP's old ally Shiv Sena is demanding half the share in state cabinet ministry in return of support to form government while on the other NCP is offering unconditional support for the same, state BJP leaders are prefering Gadkari over Fadnavis. BJP also seems to be uncertain about NCP's intentions in offering outside support.
Concerned with these political circumstances, another senior BJP legislator showed belief in Mungantiwar's proposal and said Gadkari is the best choice for CM's post.
"He is an experienced hand. He has been a minister of state and is diplomatic enough to negotiate with both these parties at their own level. He also enjoys favourable position with the higher-ups in Sangh," said the senior BJP leader.
Responding the Mungantiwar proposal, Gadkari neither completely refused to take the offer, nor did he straightway agree for it. Gadkari said that the final decision is in the hands of Parliamentary Board member and added " the final decision on his new assignment would be taken by the party's high command," indicating he would not say no to the CM's post in Maharashtra.
Earlier state BJP President Fadnavis was being projected as the frontrunner in the CM's race in Maharashtra. However, the final call is in the hands of BJP leaders Rajnath Singh and JP Nadda who will be coming to the state after Diwali to plan roadmap for government formation, as BJP failed to garner maximum seats to form majority in the state.
However, it has turned out to become the single largest party in Maharashtra, which was earlier ruled by the BCP-Congress alliance until President's rule was imposed in September this year.