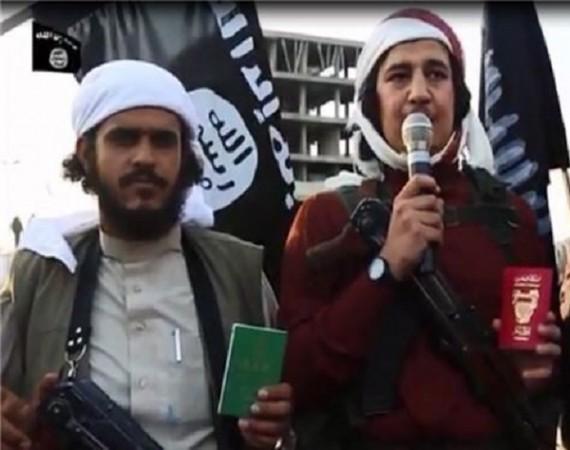 An Islamic State fighter whose Bahraini nationality was cancelled by the country's government for joining ISIS has issued a threat saying that he ''will enter Bahrain with blazing guns and behead the king".
Earlier last month Bahrain King Hamad bin Isa Al Khalifa issued a royal decree to strip 72 Bahrainis of their nationalities, including 22 of those who joined the extremist ISIS outfit and other terrorist organisations that fight in Syria and Iraq.
The ISIS fighters posted several messages reacting to the decision by the Bahrain king. While many went on to mock the decision, others issued threats which included beheading King al Khalifa, reports AhlulBayt News Agency.
Several Bahraini ISIS fighters even started a trend under hastag - #Al Khalifa_nationality_is_under_my_foot. Omar Bozboun, a Bahraini ISIS fighter put up a picture showing the Bahraini passport under his feet.
He wrote a caption saying that the ISIS does not need a passport and will enter Bahrain soon to make it part of the Islamic State.
Bahraini ISIS members who were stripped of nationalities threaten to enter the country and "behead king" #Bahrain pic.twitter.com/U3t3ymBMFZ
— TheAngryNetizen (@theangrynetizen) February 5, 2015
Another ISIS member Yusuf Al Mannai said that their fighters would enter Bahrain with blazing guns and behead the king. "ISIS does not need a passport to enter a country," he added.
In another tweet, Al Mannai posted a verse of poetry for the Bahraini extremist ISIS preacher, Turki Al Binali, "to the worshipers of land and sea...your nationalities indicate degradation".