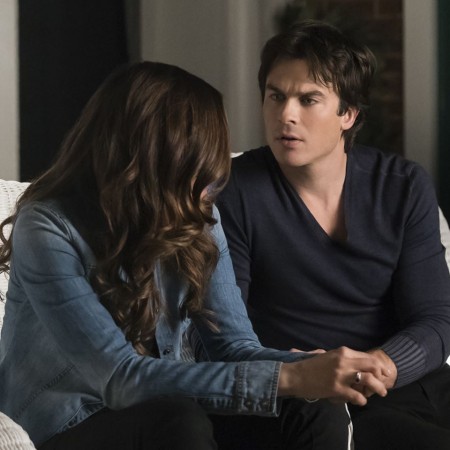 Season 7 of "The Vampire Diaries" will be different from its previous seasons as Nina Dobrev's Elena Gilbert will be missing in action, thanks to the sleeping spell Kai (Chris Wood) cast on her.
Elena will not wake up until Bonnie is alive, as her life has been linked to her best friend's, and this means Elena will not be there to prevent Ian Somerhalder's Damon from his impulsive actions. But according to Somerhalder, Dobrev fans will get to see her again in the upcoming season as well, reported Melty.
Talking about Elena's final scene, Somerhalder said it was a brilliant idea to bring in the sleeping spell bit, as it allows people to know Elena was still around.
"The way it was done was great. The way it was done was actually incredible, because it allows people to know that she's still there… she's not dead. In seventy years or however long Bonnie lives, Elena will resurface at some point, although we'll be very old when that happens," Somerhalder said.
Regarding season 7, Somerhalder said the show was going back to what it was in the first two seasons, and the tone for it was set in the final moments of season 6 finale.
"We're actually very excited about telling this story. Mystic Falls without Elena Gilbert is going to be very different. We want to go back to that Season 1 and Season 2 of storytelling... I think that the last scene in the last episode that you see is truly a depiction of what this next season's going to be," the actor added.
Speculations are rife that the season 7 villains will be Lily Salvatore's friends, the heretics, who were released from the prison world in the season 6 finale episode. Mama Salvatore is also expected to come in between Damon and his best friend Enzo in the upcoming season.
"The Vampire Diaries" returns to CW in October.