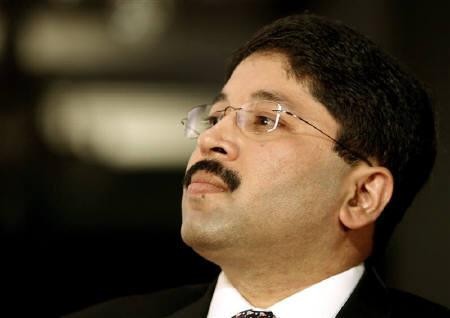 Attorney General Mukul Rohatgi has reportedly asked the investigative agency to file chargesheet against former Telecom Minister Dayanidhi Maran and his brother Kalanidhi Maran, who are involved in the alleged Aircel-Maxis scam.
Central Bureau of Investigation (CBI) is likely to file chargesheet against DMK party member Dayanidhi and his brother Kalanidhi, as Rohatgi claimed on Tuesday that the agency has enough evidence to chargesheet the Maran brothers, NDTV reported.
Referring to the controversy as a "big scam", BJP leader Subramanian Swamy said: "As I am a petitioner in Aircel-Maxis deal case, I can say that it is a very big scam, and it also impeaches on our national security."
If the CBI files chargesheet against the accused, it would affect the Indo-Malaysia relations as the alleged scam involves Malaysian business tycoon T Ananda Krishnan who took over Aircel, according to reports.
A brief look into the major incidences in the scam
2006: The then-telecom minister Dayanidhi allegedly forced Sterling Group Chairman C Sivasankaran to sell 74 percent of Aircel's share to Malaysia-based Maxis group, owned by Krishnan. Thereafter, Dayanidhi granted licences for 14 telecom circles to Aircel at a cost of ₹1,399 crore.
It was also alleged that if Comptroller and Auditor General valuation of 2G licenses is taken into consideration, the 14 licences granted to Aircel would have cost a huge sum of ₹22,000 crore. The allegations followed with claims that Dayanidhi offered $800 million to Sivasankaran for selling his telecom company to Maxis.
2007: In February, Krishnan's South Asia Entertainment Holding Ltd (SAEHL) allegedly invested around ₹600 crore in Kalanidhi's Sun Direct TV Pvt Ltd. This deal gave SAEHL 20 percent stake in Sun TV, while Dayanidhi bought the remaining 80 percent stake.
2011: In April, Sivasankaran reportedly filed a complaint with the CBI, citing that he sold off Aircel to Maxis under pressure from Dayanidhi, against whom CBI filed an FIR in October.
2014: Due to differences in the opinion between CBI director Ranjit Sinha and its investigating officers, the case was forwarded to Rohatgi.
Scams involving DMK's other members
DMK party member A Raja is already facing charges in the 2008 2G spectrum scam for allegedly favouring Swan Telecom and Unitech Wireless and giving them licences at the 2001 rate in return of ₹200 crore, according to reports.
Former Tamil Nadu Chief Minister M Karunanidhi's daughter and former Rajya Sabha MP Kanimozhi was also chargesheeted in the same. In the chargesheet, CBI alleged that she was involved with Raja throughout the dealings and was offered ₹200 crore in the name of her family-owned Kalaignar TV, in which she has 20 percent stake.
Both were arrested in connection with the scam and sent to Tihar jail, however, they are now out on bail and the case is still under trial.
And in the latest revelation of corruption in judiciary, DMK had been alleged of forcing Congress to ask three Chief Justices of India to unscrupulously appoint a district judge of Tamil Nadu as the Additional Judge of Madras High Court, despite allegations of corruption against him.
Party's future at stake?
Political experts had earlier said that DMK lost the 2011 assembly elections to AIADMK, due to scam revelations and corruption in the party. Political commentator S Ramaswamy had previously said that the party's credibility depends on the result of the telecom scandals.
Its separation from ally Congress prior to the 2014 general elections also affected the party adversely. The party, which once had a reputation of winning state assembly elections with majority, has now been reduced to minority. It has now landed itself in a position similar to the one its former ally Congress has been facing since its heavy defeat in the 2014 elections.