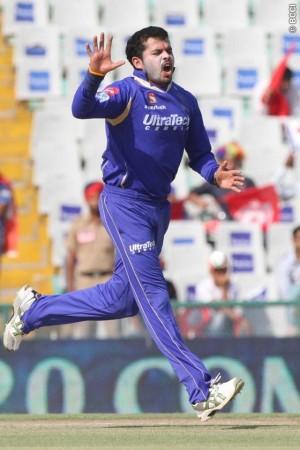 In the wake of the spot-fixing scandal, the Indian Premier League (IPL) 2013 Playoff matches may come to a halt, based on the Supreme Court's verdict on the Public Interest Litigation (PIL) seeking a stay on the remaining matches.
A bench of justices B.S. Chauhan and Deepak Misra will hear a PIL at 2:00 pm on Tuesday. The PIL sought for the discontinuation of all remaining matches until the probe into the spot-fixing scandal comes to an end. The petitioner also asked for the setting up of a special investigation team (SIT) to look into scandal. IPL franchises, BCCI and the Centre are made party in the petition.
"There are many irregularities in the IPL beginning from auction of players. Black money and money from anti-social elements are involved in the IPL, which needs to be probed," PTI quoted the petition filed by Lucknow resident Sudarsh Awasthi.
The Delhi Police on Thursday arrested three Rajasthan Royals players - S Sreesanth, Ankeet Chavan and Ajit Chandila - in Mumbai in connection with spot-fixing in the ongoing IPL matches. They were placed in police custody along with 11 other bookies for five days.
The cricketers will appear in court on Tuesday as the five-day police custody has come to an end. Their lawyers are expected to seek bail, but police are reportedly planning to seek further custody for interrogation.
The Rajasthan Royals team on Monday suspended the contracts of the three players arrested in connection with spot-fixing.
"The franchise is in daily contact with the police authorities in Delhi, Jaipur and Mumbai for providing any cooperation or information that they might require," it said in a statement.
The case against Chandila has tightened after police recovered ₹20 lakh from his relative's residence on Monday. After seizing Sreesanth's laptop, Mumbai police revealed they found pictures of the fast bowler with bookie Jupiter and several email conversations believed to be between him and bookie Jiju Janardhan.
The players have been charged under section 240 (cheating) and 120B (criminal conspiracy) of Indian Penal Code (IPC). The BCCI has also suspended all three players in question.