Darshan has completed two decades in Sandalwood and has acted in a range of movies, but his fan following has been primarily restricted to mass audience. The actor, who is known as the Challenging Star of Kannada films, has been part of many box office hits and the industry considers him as the Sultan of box office in Sandalwood.
Unfortunately, this moniker seems to have become a millstone around his neck as he is struggling to remain on top after a series of movies failed to live up to the expectations.
The Challenging Star's popularity reached a new peak after back-to-back hits like Saarathi and Sangolli Rayanna a couple of years ago. His attempts to reach out to all section of audience worked in his favour with films like Bulbul and Brindavana, but the bad days started for him with Ambareesha.
In spite of getting a fantastic opening, the film went on to do average business. Blame it on the content, the movie was not up to his usual standards. Unconfirmed reports claim that distributors suffered losses at a few centres.
The worst was yet to come for Darshan as his next three films -- Mr Airavata, Viraat and Jaggu Dada -- failed to take his popularity to the next level. The films did not manage to impress even his hardcore fans. Also, these three flicks were ripped apart by critics. Now, Darshan is back with Chakravarthy, which has generated a lot of curiosity like his usual movies.
The latest movie comes at a time when his popularity has started diminishing with the rise of other stars. Although the Challenging Star still commands a good market and producers make a beeline to get his dates, a hit can only reinstate his top position in Sandalwood, failing which he will be just another actor, who lost his focus while trying to play to the gallery.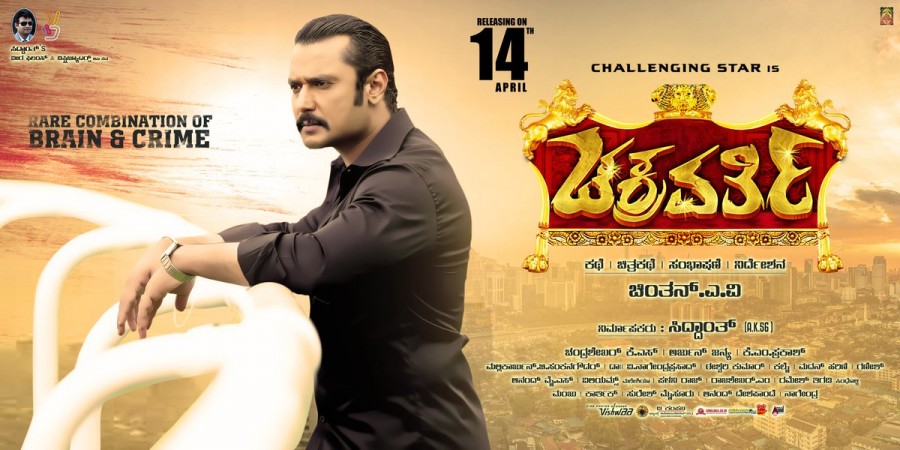 Chakravarthy
Chakravarthy is written and directed by newcomer Chintan. Kumar Bangarappa plays an important role, while Deepa Sannidhi will be seen as the female lead. Aditya and Srujan Lokesh have done key roles in the flick, which hits the screens this Friday, April 14.