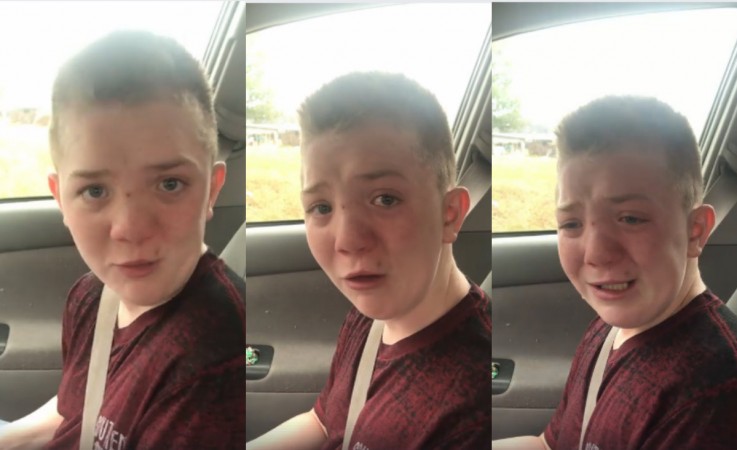 Tennessee boy Keaton Jones took the internet by storm over the weekend with his emotional outpour about his bullying experience. The video was shared extensively and celebrities poured in love and support for the boy, especially from the Avengers.
Two Avengers: Infinity War actors, namely Captain America star Chris Evans and The Incredible Hulk actor Mark Ruffalo, went a step ahead and invited him to the premiere of the Marvel movie releasing next year. However, no one thought things would go downhill so badly that their support will now be questioned.
After the video went viral over the weekend, African-American activist Tariq Nasheed took to Twitter to share screenshots from Keaton's mother's Facebook account, which according to him, constituted as possible racist content.
Kimberly Jones, Keaton's mother, invited some great trouble when her public profile (now not accessible to the public) caught the attention of online users, thanks to her posts showing her family holding up the Confederate battle flag.
The post railed against Americans who are seen as protesting the American flag. Keaton is seen in one of the pictures as well. These posts pushed Nasheed to characterise her as a "suspected racist" who has made "very problematic posts bullying Black protesters."
My heart goes out to anyone dealing with bullying, but wassup with the racist images on Keaton Jones' mom's facebook page? Wouldn't that kinda make her a bully too? pic.twitter.com/I86SzRvjLq

— Slink Johnson (@slinkjohnson) December 11, 2017
IBT India couldn't confirm the claims against her posts as Jones had shut down her Facebook account as of Monday evening.
That's not all. According to a report by TMZ, a GoFundMe page, reportedly started by Kimberly to solicit money for Keaton's Christmas gifts has been shut down due to fraud concerns. Daily Mail also reports that there was another GoFundMe page set up for Keaton by someone who doesn't know the family and collected nearly $60,000 was also shut down.
Following the viral content, numerous online users suspect the credibility of Keaton's video, express that his mother's posts overshadowed their support for the young boy and now they are unsure if they stand by him.
While it is to see if Avengers, directors, stars and others who expressed massive support and told him that he can talk and meet with them anytime he wanted still hold on to their offer, Orange is the New Black's Nick Stevenson tweeted that he is still "#KeatonStrong" despite the allegations.
Sharing a video as a response to the allegations, the said star, "I"m still #KeatonStrong. Shame on you. I really want to swear so bad. A lot of people are feeling really stupid out there today, including myself."
"Keaton didn't get to choose the family that raised & shaped him, you smug ghoul," tweeted Patton Oswalt after a Twitter follower asked him whether he would withdraw support after the allegations of racism. "Keaton's a little kid — his family hasn't allowed him any real perspective yet," he replied to another user.