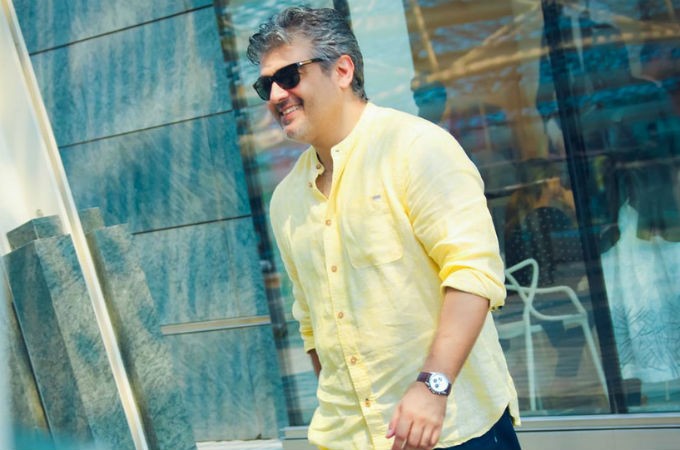 Reports are doing the rounds on the internet that Ajith is not going to attend the Nadigar Sangam's celebrity cricket tournament. He reportedly believes that the actors should spend their money for their association instead of raising it through a public event.
But some sources have told the News Minute that he has not taken such stand on the event.
Ajith has a history of taking a firm stand on the issues related to his profession. Years ago, he had refused to take part in an event organised by the then Nadigar Sangam's secretary Vijayakanth to clear the loan of the association. Thala was reportedly not happy with the idea of raising money from Singapore Tamil audience for the actors' guild.
The star did not participate at the event and instead paid Rs. 10 lakh from his pocket.
A couple of years ago, Ajith had openly requested the then Chief Minister M Karunanidhi not to force artistes to attend political events. It has been a practise for political parties in Tamil Nadu to use celebrities for their political mileage.
Looking at the earlier incidents, one might have felt that Ajith would not take part in the Nadigar Sangam's forthcoming event. However, the actor has not announced his plans yet.
The Nadigar Sangam, popularly known as the South Indian Film Artistes Association (SIFAA), has organised a cricket tournament to raise funds to construct its new building. The event will take place April 17 at the MA Chidambaram Stadium in Chennai.
Kollywood is expected to be in full attendance. Rajinikanth and Kamal Haasan will kick-start the event, which will be graced by stars such as Chiranjeevi, Amitabh Bachchan, Sudeep, Upendra and many more.
The tournament will be played among eight teams – Chennai Singams, Madurai Kaalais, Kovai Kings, Nellai Dragons, Ramnad Rhinos, Thanjai Warriors, Salem Cheetas and Tiruchi Tigers.