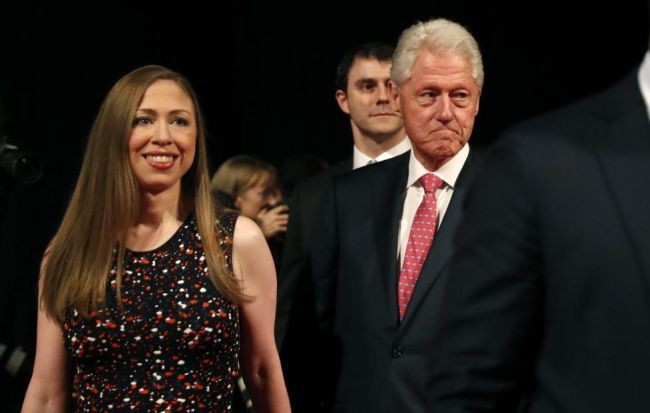 Chelsea Clinton, daughter of the Democratic presidential nominee Hillary Clinton, used Clinton Foundation's money to fund her wedding, a former Clinton aide wrote in an email in 2012, according to WikiLeaks.
The emails released by WikiLeaks on Sunday showed that the former top aide to Bill Clinton, Dough Band, wrote an email to John Podesta, who is overseeing Hillary Clinton presidential campaign, on January 4, 2012, expressing concerns about Chelsea. Band wrote the email after receiving information that Chelsea had talked about conduction of "an internal investigation of money within the foundation" with one of the daughters of the former president George W Bush. Dough wrote in the email that Chelsea's chatter was "not smart". The emails did not reveal which Bush daughter Chelsea had revealed the information to, according to Fox News.
"I just received a call from a close friend of (William Jefferson Clinton) who said that CVC (Chelsea Victoria Clinton) told one of the (George W Bush) kids that she is conducting an internal investigation of money within the foundation from cgi to the foundation.The bush kid then told someone else who then told an operative within the Republican party. I have heard more and more chatter of CVC and (Bari Lurie, chief of staff to Chelsea Clinton at the Clinton Foundation) talking about lots of what is going on internally to people. Not smart," Band wrote in the email.
The Clinton aide then went on to talk about Chelsea using the foundation's resources for her wedding and life for a decade.
"The investigation into her getting paid for campaigning, using foundation resources for her wedding and life for a decade, taxes on money from her parents. I hope that you will speak to her and end this[.] Once we go down this road..." Dough wrote .
According to reports, the Federal Bureau of Investigation (FBI) is looking into the Clinton Foundation, however, the nature of the investigation is not clear. Clinton had previously said that some of the emails she deleted from her private server were related to Chelsea's wedding.
The emails were released by WikiLeaks soon after Podesta's Gmail account was hacked.