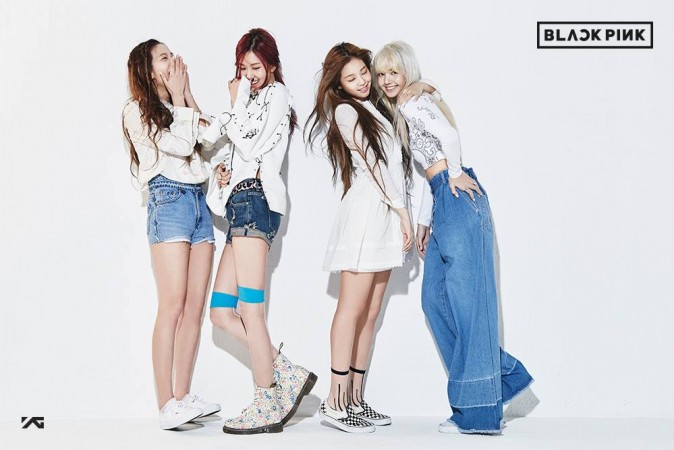 For those who've been waiting a long time to watch YG Entertainment's newest girl band BLACKPINK, the wait is finally over. The four member group debuted with two music videos (MV), "Whistle" and "Boombayah" on Monday, Aug. 8 and fans who watched the band members' energy and performance were provided with ample amount of excitement and thrill.
A day after BLACKPINK's debut, Twitter was awash with several fans' interest in the new girl group. This was also evidenced in the number of views the band's music videos received -- a whopping 2 million views in less than a few hours. But that's not it: the band's album "Square One" topped several music charts, including the Worldwide ITunes Album Chart. However, if there's one person who seems to doubt if BLACKPINK will become a success, it is YG Entertainment's CEO Yang Hyun Suk.
The media mogul, who attended the band's showcase on the day of the debut, spoke about the anxieties and fears that overwhelmed him before BLACKPINK's debut. For Yang Hyun Suk, the company's second girl group had an unorthodox debut and this was a concern.
"It's not that we didn't put in a lot of work for WINNER or iKON. Through doing two survival programs, we ended up putting a lot of effort into them. But in BLACKPINK's case, there was nothing like a program [prior to their debut], so it's true that we are more concerned about them," he was quoted as saying by Soompi.
He added that creating a girl group in many ways is much more difficult than unveiling a boy band to the public. "There's a lot to be careful about and advise [the girls] about. I'm nervous about whether [BLACKPINK] will do well, but I have faith that they will."
So far, fans, who have waited two years to see BLACKPINK members Kim Jisoo, Jennie Kim, Lisa Manoban and Rose, are ecstatic that the band has done away with projecting personalities that fit into a pubescent cute girl image. In fact, many are thrilled with their grunge style, not to mention, Lisa's impressive hip-hop skills.
To be sure, YG Entertainment may have just produced a sensation that might stick around for a while in the K-pop scene but before that, BLACKPINK will have to release more music.