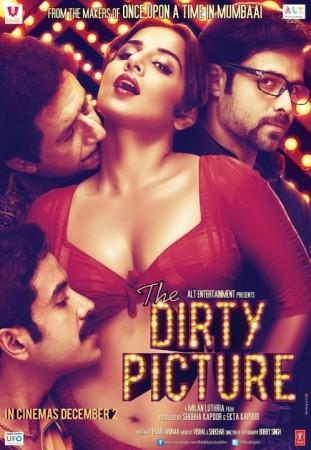 On 22 April, when the Bollywood film lovers were keen to watch the "Dirty Picture" on the Indian television for the first time, disappointment hit them hard.
Sony Entertainment Televsion, that was about to air the movie at 12 pm and 8 pm, did not telecast and instead showed a message on the screen, "For unavoidable reasons we regret to inform "The Dirty Picture" will not be telecast. Any inconvenience caused is deeply regretted."
As per the reports, the screening of the film was stopped following the direct intervention of the Information and Broadcast Ministry. Initially, the film was allowed for televison screening after the Censor Board ordered for 52 cuts in the movie. But later, the Ministry banned the channel from screening the movie during daytime, before 11 pm.
A senior official from Information and Broadcasting ministry reportedly said that even the Central Board of Film Certification (CBFC) ordered several cuts which means that parental guidance was necessary. It is said that a new rule would be applicable for screening "adult" movies on television.
"Whatever is shown on television has to be censored as per the programme code of the Cable Television Network Regulation Act. Only films that have a 'UA' rating can be shown on television. Hence 'A' rated films are submitted to the CBFC for granting such cuts and deletions that would make the film eligible for a 'UA' rating. Some films have adult themes and the treatment and public perception is such that even after substantial cuts the film still retains an adult flavour," Pankaja Thakur, the CEO of CBFC told the Times of India.
May be the whole incident was for the better. The Censor Board is trying to revise its laws regarding showing adult movies on screen after it.
"The experience with Dirty Picture's deferred telecast proves that simply ordering extra cuts in an 'Adults' film is not enough when the very theme is adult. Those members of the Censor Board, who had viewed Dirty Picture to certify it for satellite and television screening, ordered 52 cuts. But those 52 cuts amounted to seven minutes only. On Thursday, when the Information & Broadcasting ministry reacted to legal proceedings in UP courts against the scheduled telecast of Dirty Picture on Sunday afternoon at a time when optimum kids and youngsters were glued to the IPL matches, two senior members of the Censor Board re-viewed the film and found that the content needed further toning down before telecast," a source from Censor Board told Rediff.
So will the movie be telecast by Sony again? Or will the "after 11" rule take a huge toll on the viewership for television channels?