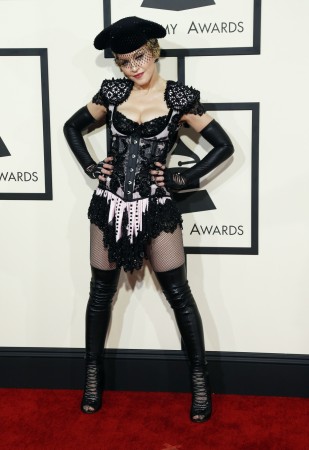 Fans at Coachella were taken by surprise when Madonna locked lips with Drake on stage during their performance. What added to the surprise was Drake's disgusted look after the kiss was over.
The young rapper has finally revealed why he was so displeased by the pop star's smooch and the answer if not something one expected. Drake told TMZ that the lipstick/lip-gloss Madonna was wearing didn't taste good.
The site also reported that unlike Madonna's earlier stunts, the kiss with Drake was not planned and though Drake loved to be kissed by the 56-year-old singer, he was grossed out by the taste of her her lipstick.
However, Drake's explanation wasn't good enough for some as Madonna didn't seem to be wearing any lipstick to the show. Of course it could have been a nude or a beige lip colour that wasn't evident on cameras, but there haven't been many men who have earlier complained about the taste of their partner's lipsticks.
While Drake has not explained his stand, he was seen promoting his "Jungle Tour" on Twitter that will have the rapper visit Houston, Detroit, Montreal,Toronto and New York City.
But his reaction was enough for twitter fans to react. Memes of Drake looking disgusted and wiping away Madonna's kiss have gone viral since the concert. Fans have also said that considering the kiss wasn't sensual, it borders on "sexual assault".
Meanwhile, it is pretty evident that Madonna does not care if it is her mouth or her lipstick that grossed Drake out. In fact she left the stage after saying, "B----, I'm Madonna." After that she went on twitter to post a picture that said, "If you don't like me and watch everything I do. B----, you're a fan."
If a man did to a woman, what madonna done to drake, it will be a bit rapey still.

— Jme (@JmeBBK) April 13, 2015
I hope #Madonna and Drake planned that long stage kiss. Otherwise that would be, like, erm, sexual assault...no? What do I know?

— Elnathan John (@elnathan) April 13, 2015