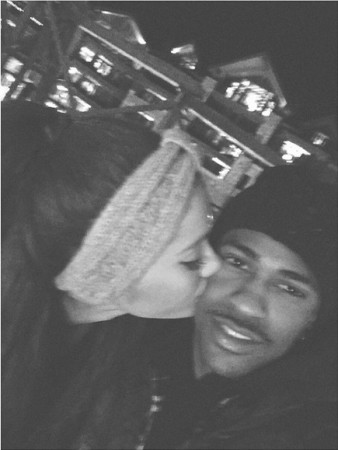 Ariana Grande and Big Sean appear to be going strong, and recently the rapper pulled out all the stops for his girlfriend when he surprised her by singing a Stevie Wonder song during one of their dinner dates.
Sean is believed to have jumped on to his chair to sing "Isn't She Lovely," an act that Grande definitely loved, but also embarrassed her.
"fyi he stood up on his chair & started singing Stevie Wonder at the top of his lungs after this photo was taken and i ran to the bathroom and hid (not actually)," Grande wrote on Instagram.
A few days earlier, the 21-year-old "Problem" singer took to the photo-sharing app to upload a video of them cuddling in bed together. They appear to be watching television in a dark room and Grande, who was chewing a gum, is seen blowing a giant bubble in Sean's face.
Sean recently gushed about his girlfriend during an interview with Complex, saying he was glad to be dating his best friend. He noted that it was a blessing to get a girl with whom he could share his problems.
"[Ariana and I] started as friends. I'd never done that," he said. "Usually you meet a girl and then start dating. We always saw each other in the studio, and we'd talk about songs we were working on. It was cool to have a girl that I could talk to about my problems. I did that with her. It's not some fake-ass, inauthentic s*** when I say we were friends. This is something special and I appreciate every moment of it," the rapper said, according to HollywoodLife.
Starting out as friends before getting into a romantic relationship seems to have benefitted their relationship, as a source told HollywoodLife that they are happier than they've ever been in their previous relationships.
Grande previously dated Jai Brooks and Big Sean was engaged to "Glee" actress Naya Rivera.