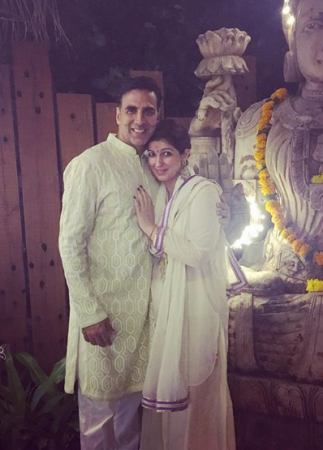 So what if Akshay Kumar starrer PadMan didn't cross 100 crores? "But what I am really pleased is that there's a conversation, an unheard one, going on about menstrual hygiene, access to affordable sanitary pads or cups and then there is the other thing — shame and embarrassment about the fact that you are menstruating... There's now a dialogue or conversation about menstruation now," Twinkle Khanna told Gulf News.
Gulf News' magazine tabloid has Twinkle Khanna on the cover this month and when the journalist asked her, 'Shall we run for cover', Twinkle replied: "You run for cover while I contemplate running for Prime Minister next :)"
That's hilarious! Imagine what would happen if Twinkle Khanna becomes the Prime Minister for real? "In everything that I have done so far when it comes to storytelling, I look for interesting conduits to take my message across. Whether I pass that message by making you laugh or I interest you by my words or intrigue you, I look for compelling ways," Twinkle Khanna told the tabloid when asked if she faced any resistance from the industry about PadMan.
Guess what? It took her nine months to convince Akshay Kumar to say yes to PadMan. "I joke with him that with that much time I could have produced my third child but it took me that long time to convince him. But it was worth the wait," she concludes.
The couple is currently in Hong Kong with their kids. Akshay posted a picture on Instagram, and wrote: "Enjoying the harbour view and some calm before the world and kids wake up #DadOnDuty #QuickGetaway."