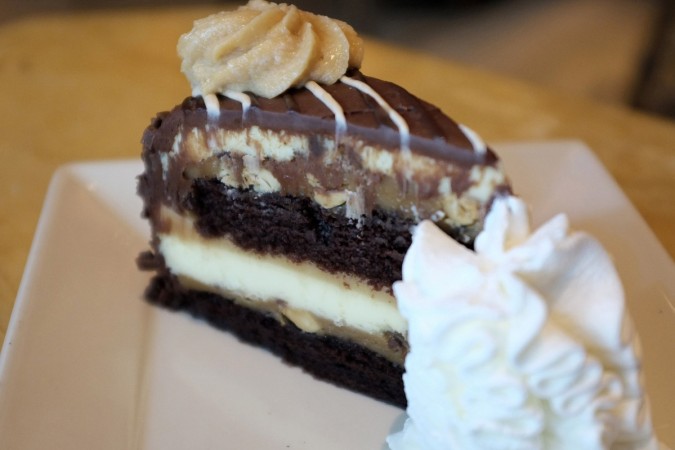 With Christmas round the corner, the stores are filled with the most indulgent desserts and cakes you can find. But people on social media have now discovered the most indulgent dessert ever and they just can't seem to get enough of it! The gluttonous red wine chocolate brownie is now red hot on social media – especially Twitter and Instagram. Tons of pics are being posted and so are recipes for everyone's own version of how to bake this gooey sensational chocolate pudding which is here to stay.
UK's ASDA believes that it has the perfect recipe for this delicious dessert. Here's the recipe: Preheat the oven to 170C/150C fan/gas 3; then grease and line a rectangular baking tray before melting 200g of plain chocolate with 170g salted butter over a pan of boiling water. Next, add 250ml of wine, caster sugar, 75g light brown soft sugar, 130g of plain flour, three beaten eggs, a tablespoon of vanilla extract and two tablespoons of instant coffee (for extra taste). Now bake the mixture for 30-40 minutes in the oven. Then leave it to cool down and remove it from the tray. Dust the brownies with cocoa or white icing sugar and voila!
And if you want a twist to this recipe, then check out the cookienameddesire.com's recipe below.
Those who have been bingeing on these brownies are also making their versions. While some have added walnuts or cranberries to the mix, others are just upping the wine quotient. News.com.au stated that one of the most heavenly recipes for red wine choclate brownies is from cookienameddesire.com.
RED WINE BROWNIES RECIPE WITH DRUNKEN CRANBERRIES

INGREDIENTS

¾ cup red wine

½ cup dried cranberries

1 cup all-purpose flour

½ teaspoon sea salt

1 stick butter (1/2 cup), plus extra for greasing

6 oz dark or semi-sweet chocolate (I used half and half)

3 large eggs

1½ cups sugar

⅓ cup unsweetened cocoa powder

½ cup chopped walnuts (optional)

INSTRUCTIONS

In a small bowl, mix the red wine and cranberries together and allow to sit for 30 minutes to an hour or until the cranberries look plumped

Preheat oven to 350 degree and grease and flour an 8 by 8 inch pan.

Mix flour and sea salt in a bowl and set aside.

In a mixing bowl over boiling water, heat the butter and chocolate until just melted and mixed together.

Remove from the bowl from the heat and beat in the eggs one at a time. (If the bowl seems very hot, you may want to let it cool for about 5 minutes before adding the eggs).

Add the sugar and cocoa powder and mix, then add the flour and mix well.

Mix in the red wine and cranberries.. Fold in walnuts, if using.

Pour the mixture in the baking pan and bake for about 50 - 55 minutes or until an inserted toothpick comes out with only crumbs.

Allow the brownies to cool in the pan about about 25 - 30 minutes in the pan, then remove to cool completely on a wire rack.

Author: Amanda Powell

Source: cookienameddesire.com