This kebab sarnie just takes ten minutes to makes and it's totally delish! The parmo kebab sandwich was created by the staff at George Pub and Grill in Stockton, Teeside, UK. And it's a big hit with those who come in for a pint. So how do they make this sandwich? Strips of kebab meat are placed between two 'parmos' or – a breaded butterfly chicken breast covered in cheese. It's served with a heap of fries and a small salad as well.
According to The Sun, there's a challenge in place to see who can end up wiping the plate clean when they order this kebab sandwich. Pub manager Craig Harker adds that if a customer ends up with a heart attack during the challenge to demolish the sarnie, the pub will offer to pay the taxi fare to A&E. As of now, all the pics of those who've been defeated by the sarnie have been posted on the pub's Facebook page. The kebab sandwich is a big hit at the pub now. Harker told The Sun, "Looks can be deceiving for example, here the sandwich looks pretty normal - but it is packed with just so many carbs."
The sandwich costs £13.95 and is possibly the United Kingdom's most fattening sandwich ever. The high cholestoerol-inducing sarnie won't make hole in your pocket but it could send you to the emergency room!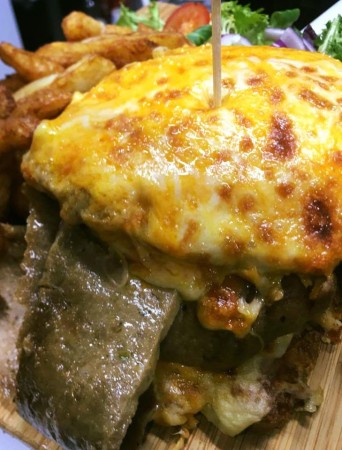 Ingredients in the kebab sandwich:
breaded butterfly chicken breast
kebab meat
cheese
bread
potato chips
green salad
The dish is served on a wooden board. Those who want to take the challenge at the pub to finish the sandwich can - but remember that everyone has failed so far!
Five most calorific foods at food chains:

1.Applebee's customizable build-your-own appetizer sampler - 4500 calories

2. Fried Chicken and Waffles Benedict at the Cheesecake Factory - 2580 calories

3. Whole Hog Burger at Uno Pizzeria & Grill - 2850 calories

4. Marco's Meal for Two at Maggiano's Little Italy - 2840 calories

5. Chicago Classic Deep Dish Pizza (personal) at Uno Pizzeria & Grill - 2300 calories