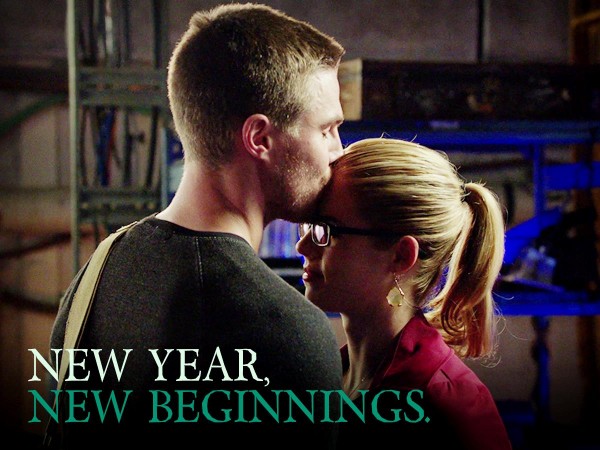 "Arrow" season 3 is coming to a close soon, and living up to its reputation, The CW series is increasing the level and suspense ahead of the finale. Episode 21 "Al Sah-him" of "Arrow" season, left many viewers perplexed and open-mouthed – especially the "Olicity" shippers.
Spoilers of 'Arrow' season 3 episode 21 'Al Sah-him':
Although viewers were warned that Oliver Queen (Stephen Amell) has joined the League of Assassins, they were not prepared for what the position of "Al Sah-him" entailed. To ensure that Oliver Queen is left behind in Starling City, and that the Heir to the Dragon has no allegiance other than to the League, Oliver is asked to kill his threat to being the heir - Nyssa (Katrina Law).
Nyssa, who was promised the title of Ra's al Ghul, left the League when that title was handed over to Oliver Queen. Nyssa, who is in Starling City, needs to be killed by Oliver, her father, the Demon's Head (Matt Nable) instructs him.
Hearing this, Oliver returns to his city, but is confronted by Diggle (David Ramsey) and Felicity (Emily Bett Rickards) and almost ends up killing Diggs. Thea (Willa Holland) arrives in the nick of time and intervenes.
However, even more shocking than Oliver trying to kill Diggs was him not killing Nyssa. In Nanda Parbat, Ra's al Ghul tells Oliver that spilling Nyssa's blood would be gluttony since she was already broken. The better use for her blood would be to unify it with Oliver's own. In short, marry her.
Needless to say, Oliver and Nyssa were both shocked by the new plan of Ra's al Ghul; but not remotely a shocked as the fans.
Here is what some of them had to say:
@gomxzftdobreva: "WHAT THE HELL OLIVER AND NYSSA CANT GET MARRIED THAT CANT HAPPEN #ARROW"
@CwZp8: "@ARROWwriters Jaw is NOT OK!! Still on the floor! Absolutely gutted You sure you love your fans? #Arrow #AlSahHim"
@dgct2: "I swear if Nyssa and Oliver get married that will be the biggest load of BS. Don't go that route Marc. This better be a bait and switch."
@wittyfelicity: "@timetravelmagic Oliver was about to kill Nyssa and Ra's was like "buddy stop I've got an idea let's get u 2 married " and they were like "
@OlicityLuv: "Nyssa=Sara Oliver=Felicity Let's keep it that way."
@smolderftw: "Poor Nyssa has been subjugated, Oliver is heir to the league, and Malcolm is helping the good guys. What a twisted world it is now #arrow"
However, although they are betrothed, the marriage between Oliver and Nyssa is highly unlikely. Mainly, because it is the most obvious way to go, and that has never been the road taken by "Arrow" writers. After giving fans one hot Olicity hook-up scene in "The Fallen", there is no way fans can be cajoled if there is no future for the vigilante and "his girl".

Moreover, in "Al Sah-him", the intro monologue was changed from "My name is Oliver Queen" to "My name was Oliver Queen...I have become something else." However, the final episode of season 3, is titled, "My Name Is Oliver Queen", meaning Oliver Queen will return to Starling City, and he will come back as Arrow, and not as Ra's al Ghul or Al Sah-him.
Al Sah-him