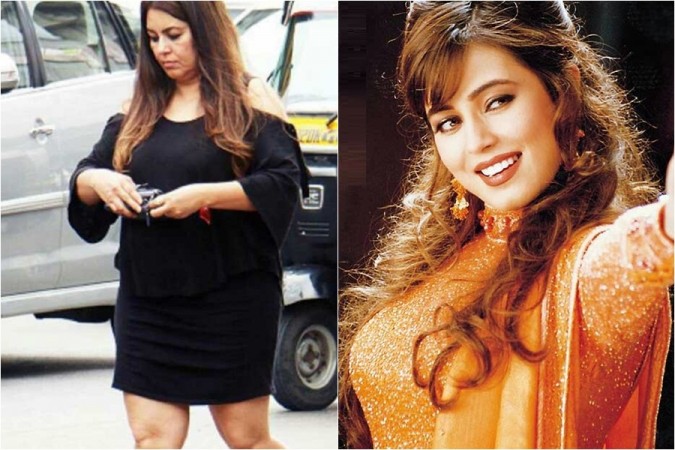 Remember Mahima Chaudhary? The bubbly girl who won millions of hearts with her debut in Pardes (1997)as a village girl alongside Shah Rukh Khan is now completely unrecognisable after bidding adieu to her acting career a long time back.
She has now put on some weight and her beauty has faded with time.
There is no denying that the shelf life of actresses in the Bollywood industry is way shorter than their male counterparts who enjoy stardom and continue to play loverboy roles even as they cross their 50s. And Mahima Chaudhary's recent picture which has now gone viral on the internet gives you a taste of the bitter truth that exists in this glitzy world of Bollywood.
Only a handful of senior actresses are still pulling through in the industry and that too doing mediocre roles (unless you are an Aishwarya Rai Bachchan) which only push further down their already declining career.
Bollywood scriptwriters rarely make an effort to put their 'creative' brains to use and write good and strong women-oriented roles for actresses as they are busy building a larger-than-life hero out of actors who are already sporting their salt and pepper looks.
And Mahima Chaudhary is only one of the many actresses in Bollywood who has been the victim of stereotypes and the mediocrity of Bollywood. She has been away from the silver screen for a very long time. She is now a forgotten name in the industry. And the reason is quite predictable - the paucity of good roles for senior female actresses.
While speaking to Mid-Day, Mahima, 44, gave a shout-out to the writers and the directors in the Hindi film industry to start experimenting and writing roles for women folk adding that she would rather prefer to do nothing than seeing herself in a mediocre role on the silver screen.
"I was a single mother and had to earn money. With a child, it was difficult to take up films, as it would have consumed a lot of time. I started judging a few television shows, making appearances at functions or cutting ribbons because it was convenient for me. It also gave me quick and good money. Now, when I look back, I feel those assignments ruined me as an actress," Mahima reasoned on why she stayed away from the screen.
Bollywood has witnessed some shift in the kind of roles that are being written for female actors something that was missing a couple of years ago in the glamour industry. It showcased female actors in strong lead roles that actually overshadowed their male counterparts onscreen; movies like Sridevi's Mom, Raveena Tandon's Maatr and Alia Bhatt's Dear Zindagi to name a few.
However, the majority of movies that come out each year fall under the popular genres of slapstick comedies, formula entertainers, and remakes of Bollywood hits with occasional horror flicks.
And to change that tried and tested storylines, writers need to come out their comfort zones and pen strong and realistic characters for women giving an opportunity to them to showcase their acting prowess beyond the glamour quotient.