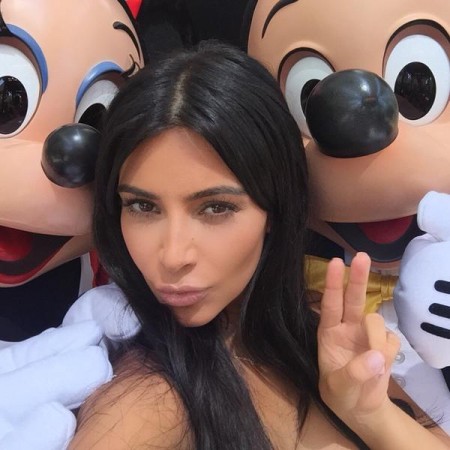 Kim Kardashian has apparently flouted her own sartorial standards for pregnancy.
Contrary to the statements made by the reality show star while she was pregnant with her first baby North West, Kardashian has been spotted wearing tight and sexy attires after revealing her second pregnancy.
While she was carrying her first child, the "Keeping Up With Kardashian" star had reportedly asked expecting mothers to cover themselves in blankets and to hide in their home the whole year.
It seems like the reality show star has realised that she had given wrong fashion advice to her fans, as the actress is now spotted wearing tight dress, showing off her curves and body, on every occasion.
From sheer tank dress to a pink latex attire, Kardashian has been showing her growing baby bump while making public appearances.
The latest reports suggest that Kim will try to wear similar tight outfits as much as she can along with high heels to look sexy even while she is pregnant.
A preggers @KimKardashian does not shy away from a little crop top action http://t.co/afnv5Hffcc pic.twitter.com/5MKM7TGLP3

— People magazine (@people) June 17, 2015
TRIPPING Up With The Kardashians: Kim stumbles while flaunting nipples in very tight dress http://t.co/1Gf4fMWiq0 pic.twitter.com/ocWhBZmCfR — Daily Express (@Daily_Express) June 13, 2015
Pregnant Kim Kardashian Highlights Teeny Baby Bump in Skintight Black Dress: See the Photos! http://t.co/3ffj8Z3wEW

— modtoast (@modtoast) June 9, 2015
Kim Kardashian stuns in a super-tight latex dress at Formula 1 event http://t.co/WvsDHW1ES4 pic.twitter.com/1YTWzMjxL8 — STOMP (@stompsingapore) June 9, 2015
Kim, her friends and family members were recently spotted at Disneyland, where they were celebrating North's second birthday.
Check out the photos of North West's birthday celebartion below:
My baby was ready to go home.... #BestDayEver #Disneyland pic.twitter.com/9YlsxbT7oe

— Kim Kardashian West (@KimKardashian) June 18, 2015
Happy Cake Northie! pic.twitter.com/yCUb8fMvxB — Kim Kardashian West (@KimKardashian) June 17, 2015
Kiki & Kenny Take Disneyland pic.twitter.com/zPjafhwGPJ

— Kim Kardashian West (@KimKardashian) June 17, 2015
Selfie with Mickey & Minnie pic.twitter.com/pl7NukNJEA — Kim Kardashian West (@KimKardashian) June 17, 2015
30 years later & now celebrating our kids parties! pic.twitter.com/1Mef2ebX4z

— Kim Kardashian West (@KimKardashian) June 17, 2015
Happy birthday to my sweetest Minnie Mouse! Thank you Disneyland for the most amazing day! pic.twitter.com/VPqnkUsw93 — Kim Kardashian West (@KimKardashian) June 16, 2015
Should Kim Kardashian Wear Sexy and Tight Dresses During her Pregnancy? Vote below: