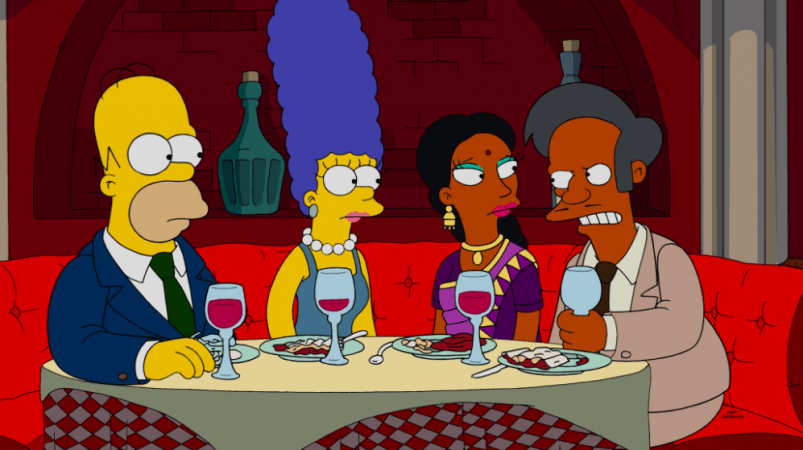 Apu Nahasapeemapetilon's time on The Simpsons is finally going to come to a bitter end. The animated comedy series has been running successfully on FOX since its debut in 1989, but it looks like the show has reportedly decided to bring the iconic character to an end.
In a recent interview with IndieWire, TV producer Adi Shankar said he heard from multiple sources, who works on The Simpsons, that the show's most controversial character will be cut from the series.
"I got some disheartening news back, that I've verified from multiple sources now: They're going to drop the Apu character altogether," said Shankar. "They aren't going to make a big deal out of it, or anything like that, but they'll drop him altogether just to avoid the controversy."
Over the years, it has widely been argued that the portrayal of Apu is a racist caricature. Back in 2007, several members of the Indian-American community voiced multiple concerns that Apu is a caricature that plays on too many negative stereotypes. Over the years, several media experts, celebrities, and comedians have talked about their take on The Simpsons' Apu.
Actor Kumail Nanjiani has criticized The Simpsons' Apu and has reacted that early in his acting career, he was asked to do the "Apu accent" as a stereotypical version of the Indian accent. As per comedian Hari Kondabolu, there is a negative reaction to the character in the Indian-American community, as well as the greater South Asian diaspora community.
In 2007, Hank Azaria — the actor who voices Apu in The Simpsons — acknowledged of the ongoing criticism when he recalled a conversation he had with the writers of the show during the inception of the character.
"Right away they were like 'Can you do an Indian accent and how offensive can you make it?' basically. I was like, 'It's not tremendously accurate. It's a little, uh, stereotype,' and they were like, 'Eh, that's all right.'"
In April 2018, in The Simpsons' episode, No Good Read Goes Unpunished, the show reacted to all the controversy surrounding their character. In the episode, Marge introduces Lisa to her favorite childhood book but is then shocked to learn the racist stereotypes and even attempts to rewrite as per the modern norms. When Lisa gets bored by Marge's work, Lisa explained that "Something that started decades ago and was applauded and inoffensive is now politically incorrect." Both Lisa and Marge later come across a picture of Apu with "Don't have a cow, man" written on it. The two characters say that the ongoing stereotypical issue will be dealt with later.
Apparently The Simpsons is dropping one of its best written, most intelligent and most nuanced characters: Apu. This is due to backlash to the way he is portrayed as a 'stereotype'.

Next up: Nintendo to stop making Mario games to avoid potential backlash from Italian plumbers.

— Skill Up reviewing #RDR2 (@SkillUpYT) October 27, 2018
So, they're getting rid of Apu in the Simpsons because he's apparently a stereotype. Do you want to start the list of the other characters the Simpsons also needs to get rid of to actually have this principle, or should I?

— Mr. Enter (@MysteriousEnter) October 27, 2018
Bit saddened to hear about the removal of Apu from The Simpsons. Would be more upset if the programme hadn't been rubbish for so long, but Apu is genuinely one of my favourite characters from the series. The principal behind his write-out feels limp and reactionary to me. pic.twitter.com/Siy0WzKtxI

— Alex Olney (@Alex_Olney) October 27, 2018
While speaking to IndieWire, Adi Shankar further stated that if the show cuts-off Apu, then it would be a mistake adding that:
"If you are a show about cultural commentary and you are too afraid to comment on the culture, especially when it's a component of the culture you had a hand in creating, then you are a show about cowardice. It's not a step forward, or step backward, it's just a massive step sideways. After having read all these wonderful scripts, I feel like sidestepping this issue doesn't solve it when the whole purpose of art, I would argue, is to bring us together."
As per Daily Star, Apu appeared in an episode titled, My War or the Highway to Heaven in which Apu "only appears in a single wide shot that showed dozens of characters gathered around God."
As of now, the show has not confirmed the news of bringing Apu to an end.