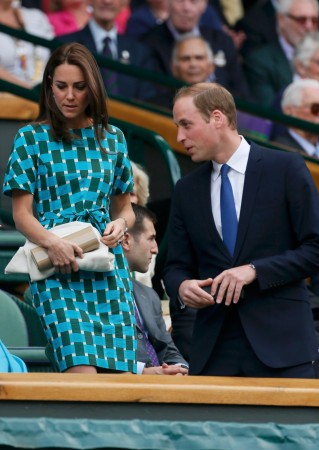 The second alleged pregnancy of Kate Middleton has been making headlines for a while now, and the media has been pointing out the Duchess' tendency to hide her stomach area as a possible evidence of the suspected pregnancy.
A number of recent photograph of the Duchess show her hiding her midriff with a clutch or by wearing loose fitting clothing, giving the impression that she is hiding a baby bump.
Jessica Hay, Middleton's childhood friend who first spoke about the alleged pregnancy, too, noted that the Duchess has been taking extra precaution to hide her tummy when out in the public.
"Kate's face is fuller like it was when she was first expecting George and she's been changing her hair, which could be to disguise the fullness," she told Australia's New Day, reported Daily Mail. "She has rosy cheeks, she's letting her greys show again, and whenever she's out in public she goes to great lengths to hold something over her tummy," Hay added.
But, Middleton's appearance in the Commonwealth Games in Glasgow on July 29 has managed to put rumors on a temporary hold.
Middleton, who was dressed in a sleek blue Stella McCartney number, was seen enjoying herself during a session of "three tins," and she did not hide behind clutches and flower bouquets this time around.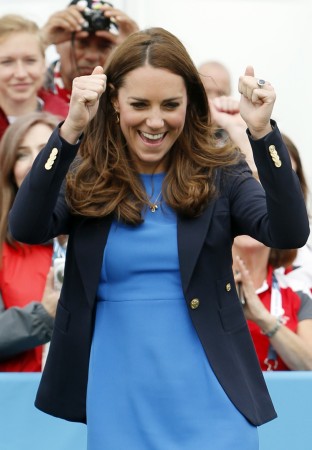 In the meantime, August will see the royal couple taking a month-long break after a busy six-month schedule that saw them touring different countries as part of their royal duty. Their last duty before the vacation will be accompanying Prince Harry to Belgium for World War I commemorations on Monday, Vanity Fair reported.
Although William and Middleton favoured the private island of Mustique in the past, this time around they are vacationing in the UK itself.
The royal couple will spend their time off in Norfolk, where the work on their new country home, Anmer Hall, is being completed, reported Vanity Fair. The house has 10-bedrooms and it has its own tennis court and swimming pool, which will be a delight for Prince George, who is said to be fond of splashing about in the water.
"They will be at Anmer for much of the time they have off," a source revealed to Royal Watch. "They cannot wait to move in and they want to make sure the last stages of the refurb go to plan."