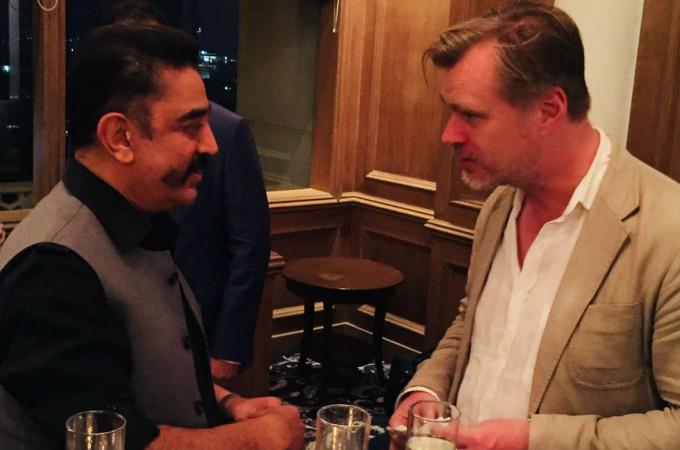 A good movie no matter in which language is always watched and enjoyed by film lovers. Many Tamil movies too have been watched beyond the Indian borders overcoming the language barriers. And recently Hollywood's famous director Christopher Nolan who is in India confessed to Kamal Haasan that he has watched one of Haasan's Tamil thrilling-drama film.
Christopher Nolan who is presently in India for a three-day trip, where he will be meeting a lot of dignitaries from the Indian film industry. On Friday, March 30, he interacted with a couple of celebs including actor-director-politician Kamal Haasan. During the course, he told Kamal Haasan that he had seen Ulaganayagan's thriller-drama Papanasam, a remake of blockbuster Malayalam film, Drishyam.
Interestingly, Kamal Haasan apologized to Christopher Nolan for watching the latter's recent drama-thriller, Dunkirk in a digital format. The Tamil actor took to Twitter to share his excitement, "Met Mr.Christopher Nolan. Apologized for seeing Dunkirk in the digital format and in return am sending Hey Ram in digital format for him to see. Was surprised to know he had seen Paapanaasam. [sic]"
Christopher Nolan is in India with his wife and children to attend an event called 'Reframing The Future of Film' organized by the Film Heritage Foundation. At the event, Nolan will share his views on the importance of preserving celluloid in the digital era. He will be meeting celebrities like Shah Rukh Khan, Amitabh Bachchan, Aamir Khan, Farhan Akhtar and others.
"Nolan is coming to India to talk about the advent of celluloid and shooting films in celluloid, something that he prefers. He is also going to talk about how the celluloid medium can co-exist with the digital mode. Nolan and Tacita Dean are coming to support the cause of celluloid film. With their visit, along with the participation of some of the who's who of our Indian film industry, hopefully, the talk and encouragement of shooting and projecting film in celluloid will start," the IANS quoted Shivendra Singh Dungarpur, the head of Film Heritage Foundation, as saying ahead of Nolan's arrival.
Christopher Nolan has been shooting his movies on photochemical films while the entire world is going digital.