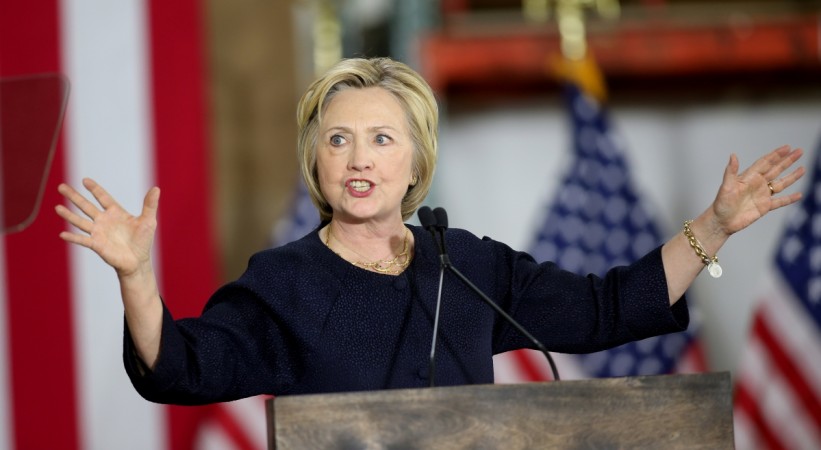 People of Jabrouli village in Uttar Pradesh are thrilled that Hillary Clinton has won the Democratic nomination for the presidential elections in the United States.
In a Reuter's video, the villagers were seen feeding sweets to Hillary Clinton's poster while women and young villagers held up posters of the first lady to be nominated for the presidential race in the US. They have also sent her their best wishes.
The celebration was attributed to an initiative undertaken by the Clinton foundation, which makes HIV treatment accessible to these villagers.
The Clinton Health Access Initiative (CHAI), which will complete 15 years in 2017, has facilitated the availability of anti retroviral (ARV) drug to four million patients and over 11.5 getting treatment for AIDS, says the foundation's website.
The foundation works with governments of 33 developing countries and other stakeholders in the medical field to subsidise medicine and treatment apart from assisting governments procure new technologies.
According to the National AIDS Control Organisation's (NACO) estimate for 2015, around 21.17 lakh people are HIV positive patients in India. The report names Uttar Pradesh as one of the top six states with high prevalence of HIV at 1.5 lakh people. The report also concludes that the top seven states account for more than 65 percent of total adults living with the infection.
An earlier report by Reuters quoted UN data which revealed that one in every 10 Asians suffering from AIDS is an Indian. India is the third largest country in terms of people living with HIV worldwide and also witnessed more than 50 percent AIDS related deaths in Asia in 2013.
The overall number of HIV patients, however, has come down by 19 percent between 2005 and 2013. Here's the Reuters video on the celebration at Jabrouli, UP.