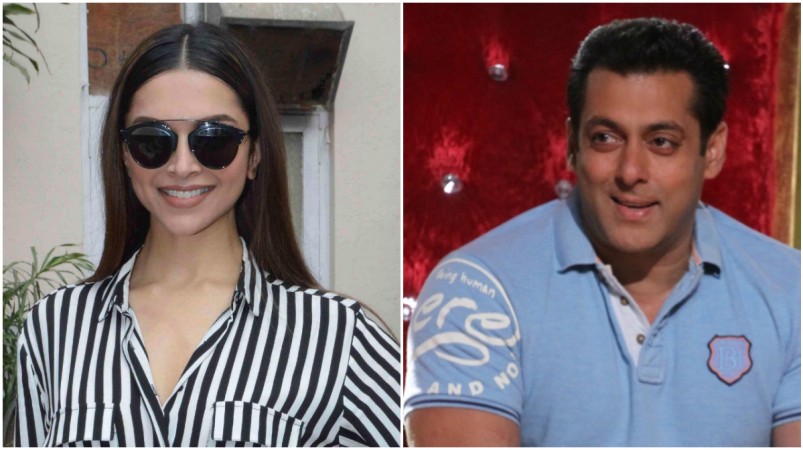 Salman Khan and Deepika Padukone have, on several occasions, come close to being paired in films, but those opportunities never materialised into something concrete. Earlier, they didn't even have a healthy rapport, but that seems to have changed lately.
According to a Mid-Day report, the superstar delayed an ad shoot by 2 hours after he was told that the "Piku" star was in the same studio for some work of her own. "While getting ready to face the camera, Salman was told that Deepika was also shooting on the same floor. So, he decided to meet her and they ended up chatting for a long time," a source told the leading daily.
What could be the reason that they are suddenly this chatty and are bonding like friends? Is it a film that they are doing together? Only time will tell.
"They came close to be cast together on a few occasions, but their pairing has, so far, been jinxed. But, with Deepika now likely to work with Salman in 'Tubelight', they are bonding big time," the insider further elaborated.
From what has been reported, the makers are looking for a Chinese actress in the Kabir Khan directorial, which means Deepika will probably not make the cut. Also, the leading lady has signed Sanjay Leela Bhansali's "Padmavati," which requires her to block 200 days on her date book.
About Salman's role in the film: The 50-year-old actor will be seen playing a man-child, who is a slow learner and has difficulty understanding situations. "It would also be the first time when Salman would play a 'special' role in his career where he doesn't do the usual or play to the gallery. Kabir has taken special effort to make sure that the character is presented sensitively in the film," DNA quoted a source as saying.
"Tubelight" is expected to hit the screens on Eid next year and is, in all probabilities, based on the Indo-Sino war of 1962. Sohail Khan has been roped in to play Salman's onscreen brother in the period film.