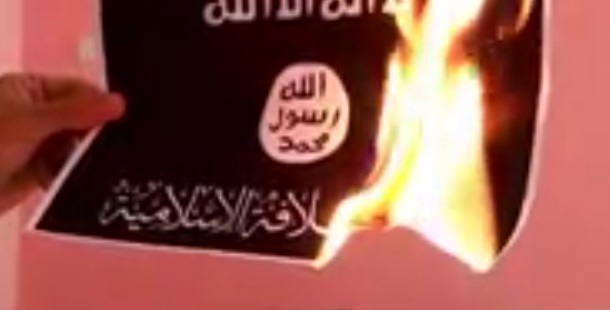 Earlier last week several Arab youths expressed their disgust against Islamic State militants by burning the black ISIS flag. However, in the last few days instead of gaining popularity, the challenge has simply tanked, as even ISIS hating Muslims consider the challenge anti-Islamic.
The defiant flag-burning trend was started off by three young Lebanese youth after they set fire to an Islamic State flag in a Beirut square to protest the beheading of a Lebanese officer by Islamic State militants.
The 'Burn ISIS Flag Challenge 'soon went viral on Facebook and the hastags #BurnISISFlagChallenge and #BURNISIS started trending on Twitter.
But it soon started gaining bad press. Among the first to criticise the absurdity behind the burning of ISIS flag was the Lebanese Justice Minister Ashraf Rifi.
"This morning, some people burnt the flag of ISIS in Sassine Square and their symbol reads: 'No God but Allah and Mohammad the prophet of Allah,' which is the cornerstone of Islam," Rifi said on Saturday reported The Daily Star.
"This symbol has nothing to do with ISIS and its terrorist approach," he added.
While scores of Arab Muslims participated in burning the ISIS flag, but many stayed back. Several Muslims despite their hatred towards ISIS, kept away from burning the flag.
A Twitter user called the burning of the flag as dumb.
This #BurnISISFlagChallenge is dumb. The flag doesn't belong to ISIS but to Islam - it's the declaration of faith and existed before ISIS.

— SJI. (@saim_j) September 9, 2014
Another noted that the burning the flag does not help in really opposing the Islamic State militants.
People taking part in #BurnISISFlagChallenge are just setting fire to the Muslim declaration of faith. Not sure how this helps. — CAGE (@UK_CAGE) September 8, 2014
Bangladeshi Muslim writer Taslima Nasreen, who has been quite vocal on her opposition to ISIS, also noted:
Burning ISIS flag means burning an Arabic sentence which says 'Allah is one and Muhammad is his messenger'. #BurnISISFlagChallenge

— taslima nasreen (@taslimanasreen) September 8, 2014
A user on Twitter noted that #BurnIsisFlagChallenge was a self-defeating campaign.
admire the sentiment, but is #BurnIsisFlagChallenge the most self-defeating campaign ever? playing into #IS hands by burning shehada? — sebastian usher (@sebusher) September 8, 2014
A report by The Independent also observed that though tweets with #BurnISISFlagChallenge and #BURNISIS were common but people were quite reluctant to actually burn Islamic State flags.
"When someone converts to become a Muslim they will say: 'there is no god but God, Mohamed is the messenger of God', and those are the principle beliefs from which everything emanates."
"Because of this, burning it is very controversial and could present theological issues for devout Muslims who reject the Islamic State," Charlie Cooper, programs officer at the Quilliam Foundation, an anti-extremism think tank, told the daily.