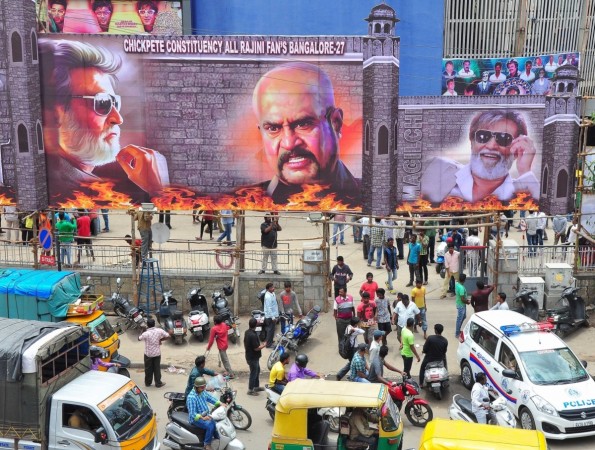 Theatre owners in Karnataka are vying for P Raj Bahadur's -- a 71-year-old retired BMTC bus driver's -- attention so that he would watch his friend Rajinikanth's movie "Kabali" at their theatre. They have invited him and his family for screenings even as other Rajini fans line up for tickets during the opening week of the movie.
Bahadur and Rajinikanth worked together for three years from 1970 to 73, when the now superstar worked as a bus conductor on a Route 10A bus in Bangalore. Rajinikanth later headed to a film institute in Chennai, where he was discovered by legendary director K Balachander.
Bahadur and Rajinikanth are still friends and will be giving his review of the movie after watching it to the superstar.
"I have to watch it on the first day though and then make a call to Rajini to give my opinion about the movie," he had told the New Indian Express.
Bahadur added that he gives a review to Rajinikanth every time his movie releases.
Reminisces about the past
"We used to make eight trips between Srinagar and Kempegowda Bus Stand in our shift between 6 a.m. and 2 p.m. and our friendship was forged then," Bahadur said.

"Rajini used to act excellently in plays. I knew he had terrific talent and goaded him to go study film acting in Chennai," he added.

"Back then, Rajinikanth was not that well-off and I helped him study the two-year course. He was then spotted by K Balachander and was cast in 'Apoorva Ragangal'. His career took off instantly from there," he recalled.
Why theatre owners want them at their halls
"The owners tell me if I watch it in their theatre, they get a feel that Rajini is watching it there!" he had said.
Rajinikanth- the friend
Speaking about the superstar, his dear friend says that the former bus conductor has not changed at all.
"We still address each other in singular (the word 'da' in Tamil). Whenever he visits Bengaluru, he asks me to come to the airport and he comes to my house in Chamarajpet and stays with me or we both go to his house near Golf Grounds," he said.

"Rajini has offered to help me out numerous times and even insisted I give up my job as a driver and live with him. I have turned down any offers or help, financial or otherwise, as I feel all that would affect our great friendship," he added.
The much awaited movie "Kabali" released on Friday, July 22, 2016.