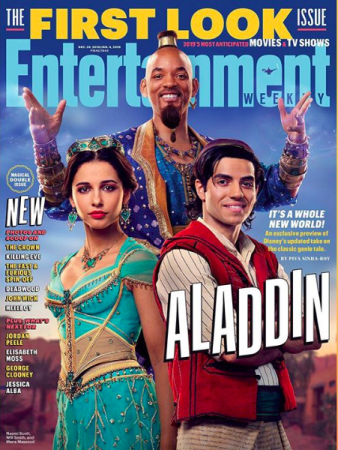 The very first look of Will Smith, Mena Massoud, and Naomi Scott starrer Aladdin was released earlier today. Disney may have hoped to achieve what it did with Frozen but fans are not too pleased with the first look of Aladdin.
Disney released the very first teaser of Aladdin live-action remake in October, but fans did not get to see Will Smith's Genie and Naomi Scott's Princess Jasmine in it. But earlier today, the lead cast of Aladdin got featured on the Entertainment Weekly's latest cover and everyone is looking spectacular.
In the other pictures, we got to see Jasmine along with Aladdin in the market, which from the looks of it, is creating the scene where she goes undercover to see her kingdom.
The upcoming musical romantic fantasy adventure film is directed by Guy Ritchie on a screenplay written by John August and Vanessa Taylor. The film is a live-action adaptation of Disney's 1992 animated film of the same name, which was based on the Arabic folktale from One Thousand and One Nights.
After Robin William's untimely death, several questioned as who will replace him in the next movie and as per director Ritchie "The great thing about the role of the Genie is that it's essentially a hyperbole for who that individual actor is, so it's a wonderful platform and tapestry for an actor to fill his boots on."
The latest pictures received mix response from the fans of the original classic. Several took to Twitter to show their disdain. Check out few such responses:
The lack of a super-toned shirtless Aladdin ruins like 90% of my interest in the film.

— You Should Have Voted Gary (@colorblindk1d) December 19, 2018
This is apparently not the first time when fans have shown their disdain towards the movie. The film has already drawn massive criticism for its decision to add a white character by casting Billy Magnussen as Prince Anders which several fans deemed offensive, sparking accusations of whitewashing to the film.
At the same time, the decision to hire non-Arab, non-Middle Eastern and half-white Anglo Indian actress Naomi Scott to play the lead female Princess Jasmine was not appreciated by several critics.
I'm disappointed in the casting choice for Princess Jasmine for the new Aladdin movie.. Jasmine looks white.. Why why why

— rae (@sekohrachel) December 19, 2018
Not only this, it was reported earlier this year that the white extras in the film were being applied brown make-up during filming in order to blend into the story, which caused a similar outcry by fans and critics, branding the practice as "an insult to the whole industry."
Apart from Will Smith, Mean Massoud, and Naomi Scott, Aladdin will also feature Marwan Kenzari, Navid Negahban, Nasim Pedrad, and Numan Acar in the lead roles. The film will be distributed by Walt Disney Studios Motion Pictures and is slated to release on May 24, 2019.