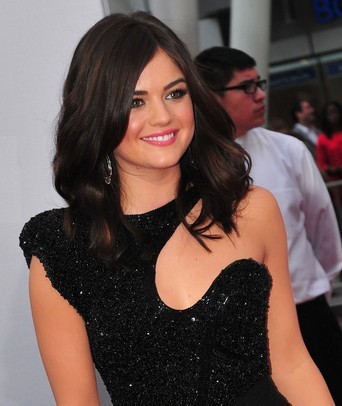 "Pretty Little Liars" actress Lucy Hale, who plays Aria on the show, has reportedly split up with her country musician boyfriend, Joel Crouse, after dating for a couple of months.
The two were first linked together in April after the pair was spotted at a Lakers Game in Los Angeles.
"First lakers game. Was really great teaching this one the rules of the game. And seeing him looking like a kid in a candy store @joelcrouse," Hale Instagrammed soon after.
However, their busy schedules came in the way of their relationship.
"Lucy and Joel are done," a source told Us Weekly, adding that they broke up because, "it was hard with the distance."
Hinting that her music and acting career took its toll on her romantic life, the source added: "She's working a lot on Pretty Little Liars and on music... It got to be too much."
The 25-year-old has previously dated actors Chris Zylka, Graham Rogers and David Henrie.
"With it being so new and not seeing each other so much that made it not something worth saving," disclosed a HollywoodLife source, "They never gave each other a chance to fall in love."
"It was basically a fling. They hold no grudges on each other and just blame it on timing and distance and different career choices," the source added.
This news comes just days after another report indicated Hale has not been getting along with her "Pretty Little Liars" co-stars.
After analysing the social networking accounts of Troian Bellisario, Shay Mitchell and Ashley Benson, multiple reports noted the girls are constantly posting online pictures of them together, and Hale is conspicuous by her absence.
Fans of the show, too, have noticed that the other three girls have been giving Hale the cold shoulder, and this even led to the emergence of #pllhateslucyhale on Twitter, a Crushable report said.
There were also reports of a feud between Hale and Benson, which was put to rest recently after Benson Instagrammed a screenshot of their text messages.
"Missing @lucyhale," Ashley captioned the screenshot of her iPhone conversation with Hale. The screenshot shows Benson and "Pretty Little Liars" showrunner Marlene King making silly faces together with the message, "Miss you. Had the best time today."
Hale responded with a message of her own saying, "My pretty ladies," along with a photo of hers reacting to their picture.