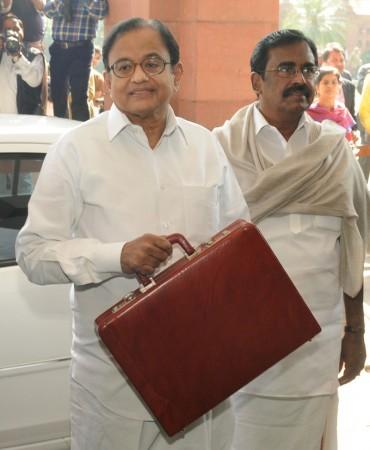 Finance Minister Palaniappan Chidambaram, in his annual budget presentation on Thursday, announced the setting up of the special 'Nirbhaya Fund' for the empowerment of women in India.
Named after the Delhi gang-rape victim, the Nirbhaya Fund with an allocation of ₹1,000 crores aims at enhancing security, safety and empowerment of Indian womenfolk.
Introducing the special fund in the eight budget presentation Chidabram said, "As more women enter public spaces - for education, work, access to services or leisure - there are more reports of violence against them. We stand in solidarity with our girl children and women."
"These deserve our support. As an earnest of our commitment to these objectives, I propose to set up a fund - let us call it the Nirbhaya Fund - and Government will contribute ₹1,000 crore. Ministry of Women and Child Development and other ministries concerned will be requested to work out the details of the structure, scope and application of the fund."
'Nirbahya' is the pseudo name given by The Times of India as a tribute to the 23-year-old physiotherapy student who was gang raped in a moving bus on the night of 16 December, 2012. She succumbed to her injuries in a Singapore hospital nearly a fortnight later.
As Indian Law forbids the identification of rape victims, media houses acknowledged the girl by different names such as 'Nirbhaya', 'Amanat' and 'Damini' amongst the most popular ones.
It remains unclear as to why the government opted for 'Nirbahya' over the others while naming the fund. Many believe that the name was chosen because of its popularity among the masses in the aftermath of the horrific crime.
Another view is that the public can identify the name "Nirbahya", meaning "fearless", with the courageous fight she had put up till the very end. On the other hand, the names "Amanat" and "Damini", which mean "promise" and "lightning", hold a relatively weaker connection with people, as abstract as it may seem.
"Nirbahya", which is of Sanskrit origin, has the same meaning in almost all Indian regional languages and is seen as an adequate word to represent the fearless woman who fights for her rights.
Soon after Chidambaram introduced the Nirbhaya Fund in the 2013 budget session, it was among the top trends of Twitter. Here are some of the funniest tweets:
@suchetadalalThere will be loads of heartburn on TV channels today. Not Damini, not Amanat but Nirbhaya Fund!! Times Now will claim it gave Chiddu d idea
@ShivAroorNirbhaya Fund: Gangrape victim's father welcomes it, wishes it bore his daughter's real name.
@sruthijith It's clear. P. Chidambaram is a Times of India reader. #Nirbhaya fund
@tanveerbhartiMurder, Rape, Train Accident, Border killing....We have a price tag for everything ...#Nirbhaya fund.