It's been more than two decades since cupid's arrow hit Abhishek Bachchan and Karisma Kapoor and they apparently fell in love during Shweta Bachchan's wedding in 1997. But they failed to culminate their relationship in marriage, and it instead ended in heartbreak for both.
They have moved on from their bitter past and are currently in a happy phase in their lives. But when the two exes recently came under one roof at Sonam Kapoor's cousin Mohit Marwah's wedding in the UAE along with Shweta Bachchan and the entire Kapoor clan, their public appearance once again reminded us of their unfortunate separation.
Abhishek and Karisma's love story began in the late 90s when cupid's arrow pierced their hearts.
It was when two powerful clans of Bollywood — the Bachchans and the Kapoors — came together when Raj Kapoor's grandson Nikhil Nanda and Amitabh Bachchan's daughter Shweta Bachchan tied the knot in 1997.
Abhishek and Karisma started getting close to each other and their love blossomed over the next five years. But they failed to keep their relationship a secret from prying eyes, which hinted at a possible wedding.
In 2002, on Amitabh Bachchan's 60th birthday, on October 11, the two surprised their fans with the sudden announcement of their engagement. But it was called off in February the following year for mysterious reasons.
Their sudden breakup provided enough meat for the plenty of rumors. One apparently cited Karisma's mother Babita as one of the major reasons behind the two parting ways.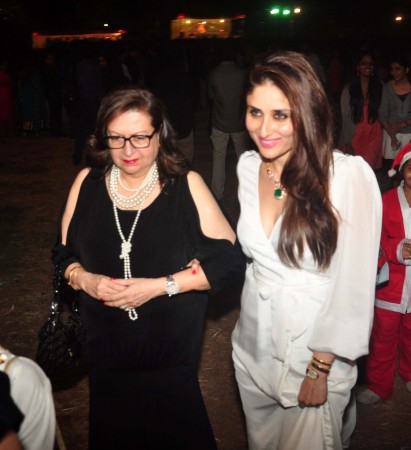 It is no secret that Babita brought up daughters Karisma and Kareena singlehandedly after her separation from husband Randhir Kapoor in 1988. She knew the value of money and wanted a stable and secure future for her daughters.
At that time, the Bachchans were apparently going through a financial crisis. And Babita had serious doubts about Abhishek's stability and had apparently asked Big B to pass on a particular portion of his wealth to his son to ensure a secure future for her daughter Karisma. Big B reportedly refused to give in to her demands and the engagement was eventually called off.
Rumors had also suggested that Karisma was reluctant to be a part of the Bachchan family, who apparently wanted her to discontinue acting after marriage.
Both the families kept mum over the entire issue and the real reason behind the calling off of their match is yet to be known. The only revelation that came out was from Jaya Bachchan, who said it was Abhishek's own painfully-taken decision and none of the families were responsible for the breakup.
In the end, Abhishek married Aishwarya Rai. They have a six-year-old daughter named Aaradhya.
Karisma, on the other hand, had a turbulent marital phase. She was granted a divorce from her entrepreneur husband Sunjay Kapur, ending their 13-year marriage. The couple has two children — Samiera and Kiaan Raj.