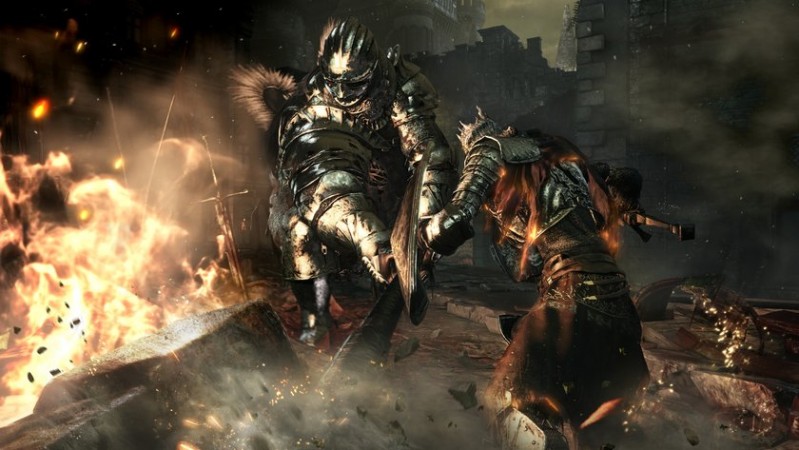 Dungeon crawlers are extremely dangerous, especially due to the fact that they are so addictive. We have had our time, battling it out in the likes of Dark Souls, Dark Souls 2, Demon Souls and, more recently, Bloodborne. However, with the arrival of Dark Souls 3, we are gearing up one more time to re-live the danger.
In case you weren't aware, which is highly unlikely in the first place, Dark Souls 3 was announced at E3 2015 behind closed doors with Namco Bandai and Hidetaka Miyazaki, the director of the game, present for the occasion.
Now, to be perfectly honest, going by what we have seen from Dark Souls 3 as of now, it actually looks like Bloodborne all over again, although we aren't really complaining. Don't take us wrongly here, and Dark Souls 3 is indeed a big game in the series, but there are aspects of it that have been lifted from Bloodborne.
Let's take a look at the points of similarity between Bloodborne and Dark Souls 3.
Bloodborne and Dark Souls 3 – Points of Comparison
Compared to the previously released Dark Souls games, keen-eyed fans will note that Dark Souls 3 is much faster than all others in the series. Sure, it isn't as fast as Bloodborne, but a significant change in game's pace is notable.
Unlike the other Dark Souls, fans will now have to face multiple enemies at a single time. Enemies will attack in hordes, just like in Bloodborne, and players will need to see them off with equal pace and increased agility.
This time around, with Dark Souls 3, expect weapons to come with unique abilities, like breaking an enemy's guard. For instance, there Greatswords that will launch enemies into the air.
Like Bloodborne, players will have to keep an eye on their timing and positioning. And although Bloodborne packs more pace than the new Dark Souls, it's still a significant upgrade from the previous games.
In the previous Dark Souls games, it was evident that enemies would surprise players, jumping out of every corner. However, in Dark Souls 3, that feature has been pushed up a notch, and the game will now feature enemies that will wait in the corners for an ambush, like Bloodborne.
If you have already tried your hand on the previous Dark Souls games, know that players indeed require a bit getting used to when moving through the areas. With Dark Souls 3, be prepared as this will happen even more.
Dark Souls 3, unlike so many other titles in the industry across genres, will become the first ever Dark Souls game that will be built with current-generation platforms in mind. And this automatically means expansive level designing.
For Dark Souls 3, expect similar massive castle areas and other massive locations in the game, which will reminiscent of the ones that we saw with Bloodborne. Plus, there are Dragons as well.
Others who were fortunate enough to catch the game when it was presented behind closed doors at this year's E3, a number of them have spoken about how it seemed like the stamina meter in the game was actually draining at a comparable rate as that of Bloodborne.
Do you think Dark Souls 3 will be a great upgrade over the previously released Dark Souls and Dark Souls 2? Or have you had enough of dungeon crawlers? Let us know in the comments section below.
[Source: Prima Games]