As the world geared up to celebrate Fathers' Day on Sunday, June 18, dozens of parents descended on Town Hall in Bengaluru on Saturday to stage a protest that could strike a chord with their ilk across the world.
The organisation that brought all these parents together is Children's Rights Initiative for Shared Parenting (CRISP). And their demand is simple: Reform family laws so that both parents have equal rights to the child – visitation and otherwise – in the event of a divorce.
In short, they want shared-parenting – especially for fathers who are often kept away from their children by mothers after separation, resulting in or arising from parental alienation. Their demands also include punishment for women who file false dowry and domestic violence cases against their husbands to keep them away from their children.
How common is it?
While exact data on how many parents are deprived visitation rights – and we are not even talking full custody here – is unavailable due to legal hassles, some examples were present in flesh at Saturday's protest.
One of them is Niraj Shanthakumar, who was unable to see his son for three whole years because his wife separated from him and took the little one away. He has fought several cases she filed against him, but now he has won a court order that gives him custody of his son whenever the boy has a holiday or a vacation.
Niraj told IBTimes India that this is exactly what he wanted: Not complete custody for a single parent but shared custody for both. That way, he says, his son can get the love of both parents even though they are separated.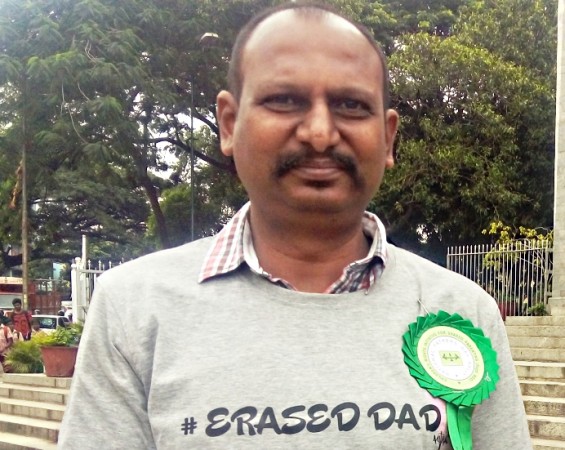 Even mothers are deprived
Then again, CRISP does not bat for fathers alone. At Saturday's protest was Manjula V, who says she was stonewalled from meeting her daughter by the man she was married to for seven years.
"We separated, but he [ex-husband] had unlimited access to our daughter. However, over time she grew distant and stopped coming to me, and even did not keep contact," she said. What Manjula was describing was parental alienation – when one parent poisons the mind of the child against the other so the child sees the latter as an enemy or undesirable.
Now she is fighting to get back custody of her daughter, and even then she is looking for shared custody: She does not want her child to miss out on either parent.