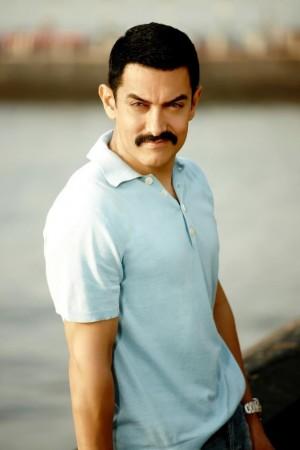 What does one need to survive the cut-throat world of Bollywood? Maybe, a little charm, good looks and popularity from successful films. But to sustain for two decades, aspiring stars need to replicate the talent of the iconic Khans - Aamir, Salman and Shahrukh.
Aamir, Salman and Shahrukh have each carved their own niche and survived in the film industry amid the presence of quality actors Sunny Deol, Akshay Kumar, Ajay Devgn and Hrithik Roshan.
A closer look at each of the Khans reflects different tactics, strategies and career choices which have led them to success.
Aamir, who had humble beginnings with Ketan Mehta's "Holi" (1984), was officially introduced as the Bollywood chocolate boy with "Qayamat Se Qayamat Tak" in 1988. An instant hit, the film raked Aamir's popularity chart. But for the actor who had just tasted success, he ended up with a lineup of bombed films like "Love love love," "Awal Number" and a few others.
Learning from past mistakes came easily to Aamir, as he made a grand return with "Dil" (1990). The film with Madhuri Dixit became the highest box office earning of that year and was declared a super-hit.
Meanwhile, Aamir's contemporary Salman Khan made his foray as a lead in Sooraj Barjatiya's "Maine Pyaar Kiya" (1989), one of the highest grossing movies. He continued his remarkable streak with "Baaghi," "Saajan," "Sanam Bewafa," "Patthar Ke Phool" before tanking releases in 1992-93.
Another kid on the block was Shahrukh Khan who took the leap from the small screen with "Deewana" and continued delivering hits in negative roles in "Baazigar" and "Darr," which made his stammering dialogues a rage and earned him a household name.
And thus began the journey of the three Khans who would invariably knock each other at certain points of their respective careers.
Aamir, the serious actor among the three, had already begun his 'one film at a time' methodology which was rare for any mainstream Bollywood actor.
Aamir delivered hits with "Dil Hai Ki Manta Naahin," and "Hum Hain Rahi Pyar Ke." Some of his films were greatly successful and some profitable.
And movies like "Andaz Apna Apna," and "Jo Jeeta Wohi Sikander" which were slammed by critics went on to gain the cult status over time.
'Mr Perfectionist' is a tag Aamir has earned over time with the selective choice of films, wise decision of scripts and sound technical knowledge.
In 1996, "Raja Hindustani" scored another success which saw Aamir paired with Karishma Kapur, a first. A roaring blockbuster, the film only reflected Aamir's consistent denial of jumping in the bandwagon and the zeal to prove himself everytime.
Aamir is the only Khan to have taken risks when they were uncalled for. Be it high end stunts ("Ghulam" train sequence) or favouring kissing scenes which Salman and Shah Rukh had always refrained from until recently. Aamir had first kissed his co-star as early as in a 1984 when no actors could even think of.
Aamir turned out to be the critics' favourite for his out of the box roles and his penchanct for meaningful scripts, as reflected in his choice of "Ghulam," "Sarfarosh" and "Akele Hum Akele Tum."
While Salman's popularity jumped in leaps and bounds with "Hum Aapke Hain Kaun," "Judwa," "Hum Dil De Chuke Sanam," "Biwi No. 1," "Jab Pyar Kiya Toh Darna Kya" and "Karan Arjun," his flops grew likewise. The ratio was gaping.
Shahrukh who has to his credits "Kuch Kuch Hota Hai," and "Dilwale Dulhaniya Le jayyenge" had his share of failure with "Ashoka," "Chahat," "Zamana Deewana," 'Dil Se," "Chahat" and "Koyla."
But SRK proved to be the media's eye candy and secured an edge over Salman and Aamir. He was bestowed with titles such as Badshah of Bollywood and King of Romance.
He continued reigning as the most visible face of Bollywood overseas and became the marketing machine with a host of products in his kitty.
But Aamir reached altogether a different genre with "Lagaan." Also his first home production, the film received huge response commercially, critically and got nominated in the foreign language film category at the 74th Academy Awards.
Even the big failure of "Mangal Pandey" in 2005 could not deter the success of Rakesh Omprakash Mehra's "Rang De Basanti," which not only reinstated Aamir's position but just reaffirmed his cult status as an actor with a difference.
The methodical actor donned the director's hat with "Taare Zamen Par" which struck yet another bingo. Now Aamir was not just a flawless actor but an impeccable director. The film set several benchmarks and drew out the best from child actor Darsheel Safary.
Aamir had more to himself than a talented actor, producer and director.
For the tamil remake of "Ghajni," Aamir used unique marketing strategies and even outshone SRK as the commercial boss. The "Ghajni" inspired look became the rage with the film's release. The film's producers struck gold while the SRK starre "Rab Ne Bana Di Jodi" that was released at the same time took a back seat.
Aamir's marketing gimmick made him the succesful face for Tata Sky, Coca Cola, Titan, Samsung. Reflective of the actor's unusual style, the ads were a visual delight with uncanny messages and concepts.
And then followed Bollywood's highest grossing movie of all times - "3 Idiots." Just when the audience thought they had seen it all, there shone Aamir carrying the Vidhu Vinod Chopra-directed masterpiece with his aura and simplicity. It was hard to imagine a 40 something actor in the role of a teenager, but all is beliveable when Aamir takes it up and that was also the end result.
Aamir created a benchmark with "3 Idiots" at a time when Salman and Shahrukh were fidgeting with "Veer," "London Dreams" and "Billu Barber," respectively.
He was the first to bring in the trend of the ₹100 crore club when "Ghajni" scored a century. But it went further with "3 Idiots" which made more than ₹200 crores in total.
It was only in 2010 when Salman could fetch the ₹100 crore fixture with his hugely successful film "Dabanng", despite he being the mass hero all throughout his career. His later films tasted similar success with "Bodyguard," "Ready," and "Ek Tha Tiger."
But SRK has not been very successful when it comes to the ₹100 crore game. His "My Name is Khan" took its share of the worldwide collections to attain a ₹100 crore success . This was followed by his ambitious "Ra-one," which gained enough to cover its production cost (₹150 crores with exclusive marketing techniques).
Shahrukh and Salman have been immensely successful in their careers but when it comes to the total package, we cannot but admit the overall winner as Aamir Khan.
All the Khans have tried acting, producing, but Aamir went further not just as a director but also lent his voice as a singer in "Ghulam."
The Khans have are more than just film stars - each of them had tried their hand successfully in television. Shahrukh who actually rose from serials made a comeback with "Kaun Banega Corepati" and few others. Salman stood out as the uninhibited host for "Big Boss" and Aamir launched in television with another yardstick "Satyamave Jayate."
"Satyamave Jayate" saw Aamir as the social crusader. The reality show was broadcasted by Doordarshan in 18 languages, another first. It created a sensation nationwide and led to heated discussions as episode after episode exposed the continuing social evils and malpractices of Indian society. Aamir took seriously his role as UNICEF ambassador and became the heralder of humanitarian causes.
Be it box office success, flawless acting or serious and methodical aproach to every aspect of filmmaking, Aamir has established himself credible by high standards.
Jack of all trades that Aamir is, he has rightfully carved his space in the industry and rides the wave even after twenty five long years in the industry.