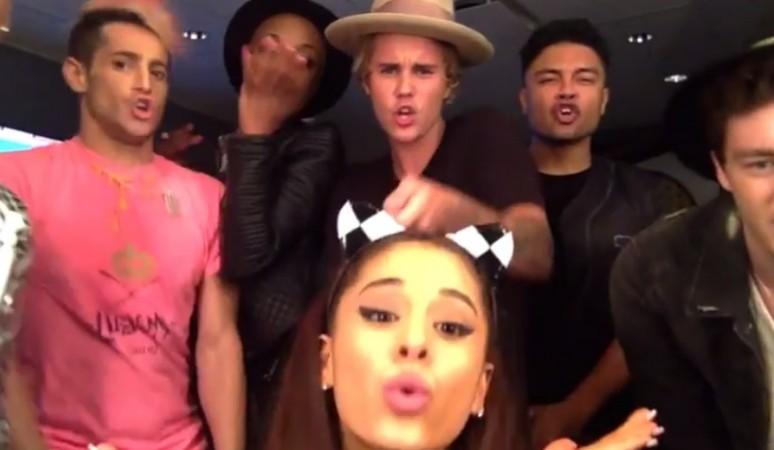 Justin Bieber has always been quite a lady's man and this time his lucky girl might be Ariana Grande, who recently broke up with Big Sean.
The media has been constantly speculating about Bieber's next girlfriend. Especially, after both Ariana and Bieber were seen cozying up on stage in Los Angeles earlier this month. But the "If I was your boyfriend" singer is not in the mood to settle down with anyone.
Sources close to the "Love me harder" singer told Hollywood Life that Bieber and she are very close friends, but right now that's all there is to it.
"It's very unlikely that anything will happen between Justin and Ariana," a source told the website. "They may hook up, but a full relationship will probably never happen between them."
"They both deeply care for each other and remain close friends," reps for the performers told the website in a joint statement. "We kindly ask that the media respect their wish for privacy regarding this personal matter at this time."
But serious or not, rumours about their hook-up isn't going down too well for Bieber's ex, Selena Gomez. An insider told Celebrity Dirty Laundry that the "Heart wants what it wants" singer has always considered herself better than all the other women the "Baby" singer has hooked up with.
But she feels shaken to think about Ariana-Bieber rumours because if they are true then Bieber is well over with her.
"The thought of Justin and Ariana has her shaking in her boots, she knows that Justin respects Ariana and if they are hooking up – he isn't going to drop her for Selena like he does the Instagram models and strippers," the source told the website.
Bieber had recently put up a picture of American model, Ashley Moore captioning the picture, "Sometime I wonder", which got the media speculating whether he was dating the model.
Meanwhile, after ending the eight-month relationship with the American rapper, the "Boom Boom" singer seems to be recovering quite well. "I love u babes so much, you're a bunch of angels honestly. your love / care is appreciated so much. i'm good i promise," she tweeted, addressing her fans, but deleted it after some time.