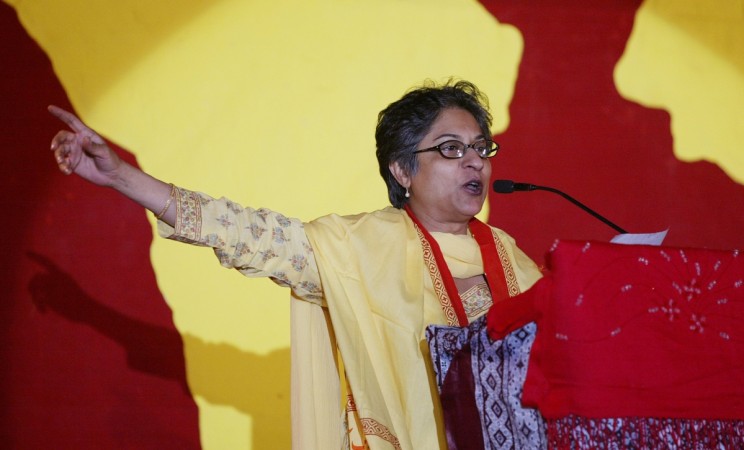 Asma Jahangir, a well-known Pakistani human rights activist, died on Sunday, February 11, in Lahore after suffering a cardiac arrest. She was 66.
Asma's death was confirmed by her daughter Munizae Jahangir, who explained that she was rushed to the hospital after the heart attack and died later.
After the news of her death broke, people all over the world have been tweeting their condolences and speaking about how she was a "fearless" person and "one of the bravest fighters for human rights."
Asma Jahangir , undoubtedly the bravest and the most resilient fighter for human rights who had the courage to face the wrath of the dictators and the fury of the fundamentalist Mulla has passed away . It is the loss of the whole Sub continent .

— Javed Akhtar (@Javedakhtarjadu) February 11, 2018
RIP Asma Jahangir. The Subcontinent's bravest and most "incorrigible" liberal. No one touched by her came without her touch of kindness. Both Pakistan and India are poorer today. pic.twitter.com/IEL3rXbjcS

— Shekhar Gupta (@ShekharGupta) February 11, 2018
Who is Asma Jahangir?
Asma was a renowned human rights activist who co-founded and chaired the Human Rights Commission of Pakistan.
She played a key role in the Lawyers' Movement and also was the United Nations Special Rapporteur on Freedom of Religion or Belief.
She was born and raised in Lahore but moved to Geneva in 1986 and was the vice-chair of the Defence for Children International for two years.
She moved back to Lahore in 1988.
The 66-year-old is known to speak her mind and is often referred to as the voice of the weak and marginalized, reported the New York Times.
She was imprisoned in 1983 and was also put under house arrest in 2007.
There have reportedly even been plans to kill her and the same was suggested by some documents leaked in the past.
Due to her unwavering beliefs and service to the marginalized, she was nominated for the Nobel Peace Prize in 2005.
She also worked for bonded labours brick kiln workers.
"In bonded labor cases, judges would ask me why I had brought those people to the courts who stank. 'You are here precisely for them,' I would respond," she told Herald, a local magazine.
Jahangir, in 2014, told AFP that over the years she had seen changes when it comes to human rights in Pakistan. "There was a time that human rights was not even an issue in this country," she said. "Then prisoners' rights became an issue. Women's rights was thought of as a Western concept. Now people do talk about women's rights."