An Indian techie settled in the US, identified as Ragupathy Kandasamy, 32, died on Coimbatore's Avinashi Road on Saturday, November 25 after he lost control of his his bike after allegedly hitting a wooden structure raised by AIADMK ahead of the late Tamil Nadu chief minister M G Ramachandran's (MGR) centenary on November 3.
Kandasamy, affectionately called Ragu, fell off his bike and was ran over by a truck and died on the spot. However, the Coimbatore police on Monday said that the AIADMK's wooden structure was not the reason for the horrendous accident.
Kandaswamy had come to India on a short visit to meet a prospective bride. His death spurred viral anger on social media with #WhoKilledRagu/#WhoKilledRaghu.
The viral posts led to major criticism of the ruling AIADMK by the opposition, activists and social media. Some activists painted 'Who Killed Ragu?' in white at the the spot where he died. The police later covered up the words.
Many including actor Kamal Hassan and opposition continue to condemn the ruling party.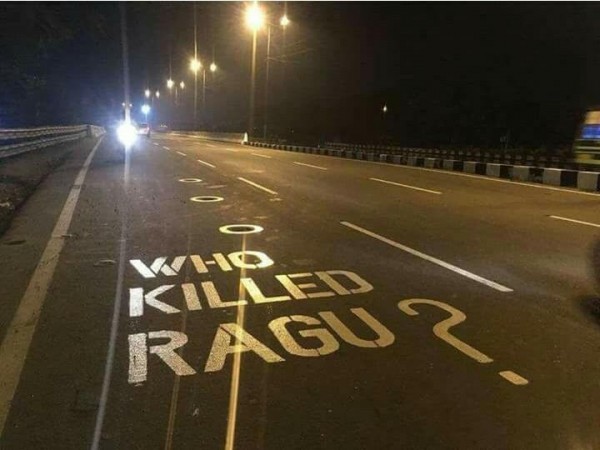 The actor conveyed his concerns via a tweet writing that, "Any government that regards power and fame even at the cost of life will fall."
Police investigation so far, arrests
The Coimbatore police has arrested a 31-year-old truck driver identified as M Mohan from Paramakkudi and alleged that the driver was driving on the wrong side of the road.
The truck belonged to a private firm UPL, was being operated on contract basis for Coimbatore Integrated Waste Management Company Private Limited.
The driver has been booked under Sections 279, 304 (A) of the Indian Penal Code and 134 (a) (b) of Motor Vehicle Rules read with 187 of Motor Vehicle Act and has been sent to judicial custody on Sunday, the police said.
The police has also claimed that they have the footage of the truck running over Kandaswamy on Saturday night. However, the police has not yet presented any concrete evidence on what made the techie fall from his bike.
Although the police said that the hoarding did not cause the accident, following the outburst of netizens, the commissioner of the Coimbatore Municipal Corporation ordered the removal of the structures.
Political spat after techie's' death
A DMK legislator from Coimbatore has approached the state's high court with a petition appealing to the judges to order the removal of all hoardings in Coimbatore and demanded immediate action against government (AIADMK) officials.
The DMK working president M K Stalin took a dig at the AIADMK tweeting, "Under the pretext of #MGRcentenary, the AIADMK govt. continues to blatantly violate the High Court's order on obstructive & dangerous hoardings - now resulting in the death of Raghu, a promising young engineer in Coimbatore. I condemn this lawless govt. in the strongest terms".
However, S P Velumani of the AIADMK slammed the opposition parties and said, "they are spreading false rumours."