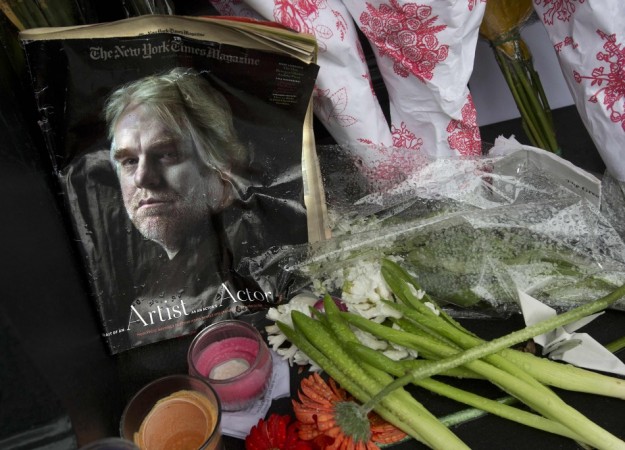 The 72 small bags of heroin found in Philip Seymour Hofman's Greenwich Village apartment has added to the growing mystery on the actor's death. Police are now hunting for the dealer who supplied the drugs to the actor adding to the imprecision in the case.
While the internet is still buzzing with news reports, rumors and reminiscences on the dead actor, an article in the New York Post that talked about police's citywide search for the drug dealer who sold heroin to the troubled actor, is gaining much attention. The 46-year-old was found dead Sunday in his $10,000-a-month apartment with a hypodermic needle stuck in his arm.
The Post reported that cops are taking the lead with the logo marked in the heroin bags found in the apartment. 49 sealed bags and 23 other bags that were open and used, were found. Among all the bags, 59 were marked "Ace of Spades" and 13 had the "Ace of Hearts" logo.
The news outlet reported that Timothy Bugge of Manhattan South Narcotics e-mailed an alert to police supervisors asking if anyone had dealt with the heroin labeled as "Ace of Spades" or "Ace of hearts".
Police are also trying to find if Hoffman's supply was laced with fentanyl - a drug given to cancer patients to sooth their pain. The mixture has been linked to 100 deaths in America - with about three dozen deaths in Maryland since September attributed to such a combination, reported The Daily Mail.
Adding to the intrigue is the fact that, the unusual brand names haven't been seen in New York since 2008.
But the question that has been asked is: will police really find a lead just by the logo or is the entire prospect a fascinating but hopeless cause?
Christopher Kaulouris with the Scallywag and Bagabond website writes that the exercise to find the drug dealer is nothing more than "wishful thinking" and a "public relations" stunt.
"And yet as much as all the above is true, where do cops start? Which is to say if the drug trade hasn't been tempered after all these years what makes authorities suddenly believe they will get their man? Do we only want to get our man when a high name celebrity becomes a casualty?" he notes.
Even while everyone agrees that Hoffman's death was unfortunate, the actor has sadly appeared among the list of individuals who have succumbed to the increasing trend of drug abuse in the York Corridor. The Daily Beast reports that heroin is sold in Brooklyn and Queens at such an extreme discount and frequency that prosecutors have dubbed the long Island Expressway "heroin highway."