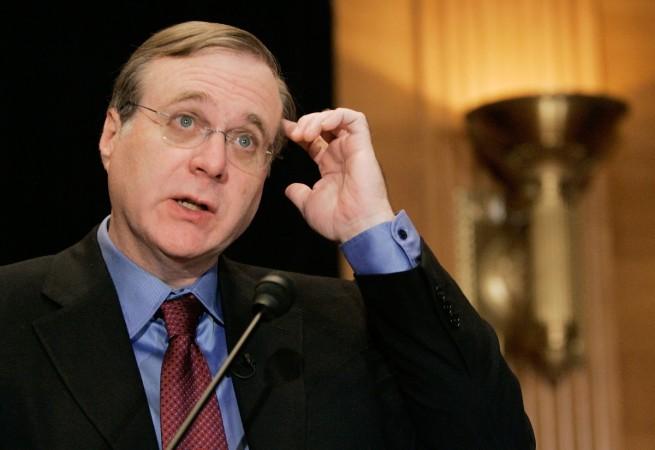 Microsoft co-founder and billionaire Paul Allen, who had been battling cancer for a while, died on Monday, October 15. He was 65.
Paul's Vulcan Inc. confirmed that he passed away in Seattle, Washington, and said the death was from complications of non-Hodgkin's lymphoma. The 65-year-old had been treated for it in 2009 and had spoken about the return of the disease just a fortnight back. However, he had said that the family and the doctors were "optimistic" about the treatment.
In a statement, Paul's sister Jody Allen called him a "remarkable individual on every level," and said that "he was a much loved brother and uncle, and an exceptional friend."
"Paul's family and friends were blessed to experience his wit, warmth, his generosity and deep concern. For all the demands on his schedule, there was always time for family and friends. At this time of loss and grief for us – and so many others – we are profoundly grateful for the care and concern he demonstrated every day," Jody said.
Meanwhile, Microsoft co-founder Bill Gates said that he was "heartbroken" and "personal computing would not have existed without him."
"From our early days together at Lakeside School, through our partnership in the creation of Microsoft, to some of our joint philanthropic projects over the years, Paul was a true partner and dear friend," Gates said in a statement.
"Paul loved life and those around him, and we all cherished him in return. He deserved much more time, but his contributions to the world of technology and philanthropy will live on for generations to come. I will miss him tremendously."
Who was Paul Allen?
Born on January 21, 1953 to Kenneth Sam Allen and Edna Faye Allen in Seattle, Paul was a renowned investor, businessman and philanthropist.
He studied at the Washington State University, but dropped out to work as a programmer with Honeywell in Boston.
He met Gates and convinced him to drop out of Harvard. The duo then founded Microsoft in 1975.
He also went on to establish Vulcan Inc. where he was the chairman at the time of his death.
He was estimated to be the 46th richest person in the world, and his net worth is said to be about $20.3 billion, which includes 100 million shares of Microsoft.
Paul invested in many portfolios such as technology and media companies, scientific research, real estate holdings, and private spaceflight ventures among others.
He also founded the Allen Institute for Brain Science,[9] Institute for Artificial Intelligence, the Institute for Cell Science and Stratolaunch Systems.
The 65-year-old was also the owner of the Seattle Hawks (NFL) and the Portland Trailblazers (NBA).
Paul also supported several causes and is known for his charitable work. Over the years, he is known to have donated over $2 billion for wildlife and environmental conservation, community service, healthcare, education, and arts.
In 2014, Paul pledged about $100 million toward the fight to end the Ebola virus epidemic in West Africa.
He has received several honours over the years and was named among the Time 100 Most Influential People in The World in 2007 and 2008.
Paul never married and has no children.