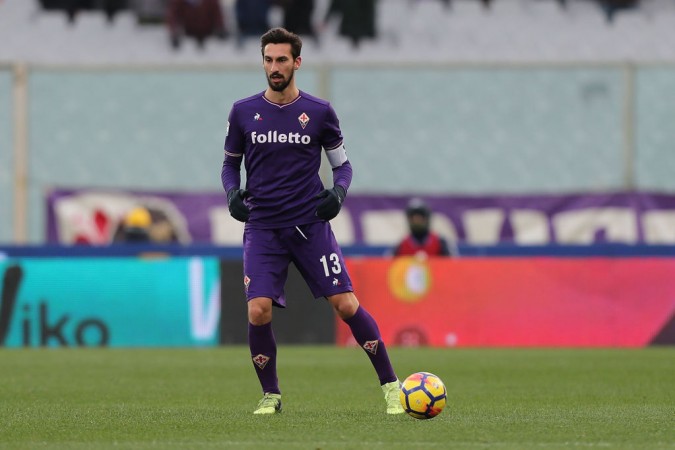 Italy international and Serie A side Fiorentina's captain Davide Astori died at the age of 31 on Sunday, March 4.
Astori was gearing up to for his team's league match against Udinese on Sunday, but breathed his last while sleeping due to "sudden illness", Fiorentina confirmed on Twitter. An initial medical report said the center back had died of "cardiocirculatory arrest", according to Italian newswire ANSA.
La Fiorentina profondamente sconvolta si trova costretta a comunicare che e' scomparso il suo capitano Davide Astori, colto da improvviso malore.
Per la terribile e delicata situazione,  e soprattutto per rispetto della sua famiglia si fa appello alla sensibilità di tutti. pic.twitter.com/bFGnkReWEC

— ACF Fiorentina (@acffiorentina) March 4, 2018
The sturdy defender was staying at a business hotel in Udine ahead of the league match. His teammates came to know of his demise when he did not show up for breakfast on the day of the tie against the home side.
Notably, Astori had played video games on his PlayStation with his Fiorentina teammate Marco Sportiello for an hour on Saturday evening, according to ESPN.
The sudden death of Astori left the football fraternity in shock. Seven Serie A matches, including the much-anticipated Milan derby, scheduled for Sunday were postponed.
Astori's Italian teammate Gianluigi Buffon came up with a heartfelt message on Instagram on Sunday. The Juventus captain said the Fiorentina skipper was the "best expression of an ancient, surpassed world, in which values such as altruism, elegance, education, and respect for others, were the masters."
Here's all that you need to know about the Italy star.
Astori was born in San Giovanni Bianco, a comune in Italy located near Milan.
He is survived by his longtime girlfriend and two-year-old daughter.
Astori represented Italy U18 four times. He had played for local team Pontisola before joining AC Milan in 2006.
The late Italian footballer did not play a single match for Milan as he was loaned to two-lower division clubs during his stint with the Italian giants, according to CNN.
Astori came into the limelight after making his move to Cagliari in 2008. He made his top-flight against debut Siena in the same year.
He went on to make 174 appearances for Cagliari and scored three times during his six-year stint with the Rossoblu.
He was also under the radar of Premier League giants Manchester United during David Moyes' stint.
He made his Italy debut in 2011 and went on to represent his country 13 more times. His only goal for the Azzurri came in the 2013 Confederations Cup.