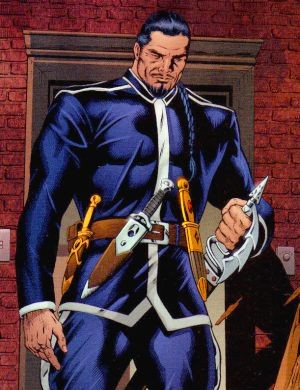 The first-look trailer of DC's "Legends of Tomorrow" that was released on 14 May revealed all the main characters and the super-villain appearing in the upcoming CW series. DC's most persistent and more importantly, immortal bad guy, ranked as the 36th Greatest Comic Book Villain of All Time by IGN, Vandal Savage will be brought to life in The CW in 2016.
Hawkgirl, played by Ciara Renée, will join DC world's familiar superheroes, who have already made their mark in The CW. FIRESTORM aka Martin Stein (Victor Garber) and Ronnie Raymond (Robbie Amell), Captain Cold (Wentworth Miller) and Heat Wave (Dominic Purcell) of "The Flash", along with Sara Lance who now goes by the name, White Canary (Caity Lotz), and Ray Palmer aka The Atom (Brandon Routh), to form a rag-tag team of heroes.
They are assembled by The Flash and Arrow themselves to beat the immortal super-villain Vandal Savage, under the guidance of time traveller Rip Hunter, who is tasked with protecting history. All the major cast members of "Legends of Tomorrow" are set to appear in the season finale of "The Flash" titled "Fast Enough" on Tuesday, 19 May.
Everything You Need to Know About 'Captain America: Civil War' Supervillain Baron Zemo
Vandal Savage has not yet been cast in The CW series. So, here are all the things you need to know about the super-villain to scour for the perfect actor to play the role.
A "Justic League" and "Justice Society" villain, Vandal Savage was born as a caveman named Vandar Adg, leader of the Cro-Magnon Blood Tribe. He received the boon of immortality when a strange meteor fell from the sky, which also rendered his mind and body mature ahead of his time; even in the present and the future.
His body is invulnerable to age, disease and fatigue, however, he is capable of getting drunk like a normal human. He is also still vulnerable to external damage, and would heal only at a normal human rate. However, he does have a strong adaptation to the feeling of pain and endurance.
Being immortal, Vandal Savage has plagued the Earth with violence and fought with possibly every single hero featured in the DC Universe and is said to have caused wars even before the beginning of recorded human history, making him the first murderer among humans.
He was once known as Caine; a Biblical reference to Caine who killed his brother Abel, He has taken any names and forms using each of which, he plundered humanity. Over the years, he has been Julius Caesar, Genghis Khan, Jack the Ripper and many other prominent figures in history, who were responsible for many bloody deaths.
It is plenty clear that Vandal Savage is the most devious and dangerous super-villain. Which actor do you think is fit to play Vandal Savage in CW's "Legends of Tomorrow"? Let us know in the comments below.