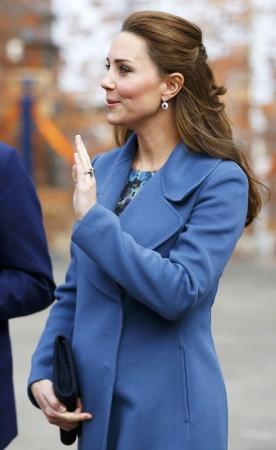 Duchess of Cambridge Kate Middleton, who is pregnant with her second child, has her hands full with young Prince George, and she often relies on her mother Carole Middleton's guidance to balance her work and family.
But Carole's involvement in the royal household has increased to such an extent that she is supposedly the one who sources all the fabrics and wallpapers for the new baby's nursery; Carole is the one who makes her son-in-law William his favourite snack ; and she is responsible for stocking up on William's favourite sea salt chocolates, claims a new Daily Mail report.
Royal insiders told the publication that Carole has become so indispensable to the royal couple that she is now "the unpaid female Fawcett" — a reference to Michael Fawcett, the former butler that Prince Charles relied on to run his houses.
Reportedly, the Middletons are gearing up to move to Anmer Hall in time for the Duchess' delivery so that Carole would be available round the clock to help with the newborn.
News of the Middletons' intention to move in with William and Kate comes at a time when rumours indicate that Prince Charles is unhappy that he doesn't get time to spend as much time with his grandson, Prince George.
"When George arrived, Kate and William moved into Kate's parents' house. This time the Middletons are moving in to Anmer with William and Kate," a family friend told Daily Mail. "There is plenty of space and Kate really wants her mother around. At the moment Carole is getting everything in place because the baby is due around April 25."
Prince William is only happy to have his in-law at Anmer Hall, said a source. The Duke is said to be at ease and happier when the Middletons are around.
"There are three people in that marriage, a result of Kate feeling quite ill at the beginning of this pregnancy and exhausted all the way through. She has relied on Carole. If the Middletons have hijacked the Cambridges, then one can only say that William rather likes it."
However, William's grandmother, Queen Elizabeth, is said to be displeased with Carole's involvement in the Cambridges' lives. According to another report the Queen feels Anmer Hall isn't managed like a "proper royal household" and that it's "too middle class."