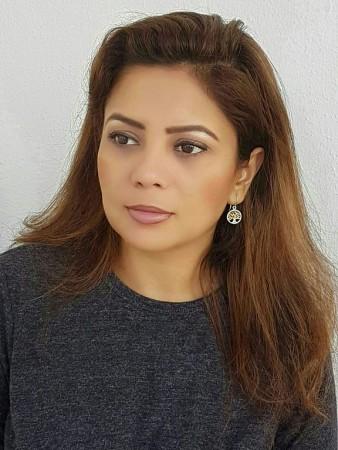 Scottish Indian entrepreneur Poonam Gupta has bought a painting of cricketer Virat Kohli for a whopping Rs 2.40 crore (£2.9 million) in London. The painting by renowned painter Sasha Jaffery represents Kohli's IPL journey over the last 10 years and was put up for sale at a charity dinner by the Virat Kohli Foundation.
Jaffery has previously worked with sportspersons such as David Beckham, Yuvraj Singh and MS Dhoni for various causes and charities and Gupta is clearly pleased with her haul.
"What I like about this young generation of Indian cricketers is that they are responsible and want to make difference on and off the field. I am very connected to the cause taken up by Virat," Gupta said, speaking about why she chose to buy a painting of Kohli, reported the Press Trust of India.
"Slavery has no place in this world and we need to stand up and do our bit. I am glad Virat has come forward against this evil and by buying this magnificent piece of art created by my favourite artist Sasha Jaffrey, I tick two boxes. I take a rare master piece to my home and also help this noble cause in my own way."
So who exactly is Poonam Gupta who was willing to shell out the huge amount for the painting? Born in Delhi in 1976, Gupta is a Scottish Indian entrepreneur and philanthropist who emigrated to Scotland in 2002 after marrying Puneet, a Belfast-born pharmacist of Indian descent.
She has an honours degree in Economics from Shri Ram College of Commerce (SRCC) Delhi and an MBA in International Business and Marketing. The businesswoman launched her company PG Paper Company Ltd in 2003 that initially focused on reusing waste products and today it deals with paper of every grade and exports and imports products from about 52 countries worldwide.
Apart from the business, Gupta is also involved in numerous charitable work that focus on an array of causes such as women's issues, gender equality, underprivileged children, animal conservation, helping young girls with education and cancer. She has raised funds for various organisations dealing with similar issues and in 2017 she founded Women's Business Mentoring, an organisation that works to "encourage more women to have or become mentors and to help support and create more female business owners," according to its website.
In the year 2016, Gupta was awarded an Officer of the Order of the British Empire (OBE) for her services to the business and charity. She was also named the Scottish Asian Businesswoman of the year in 2009.