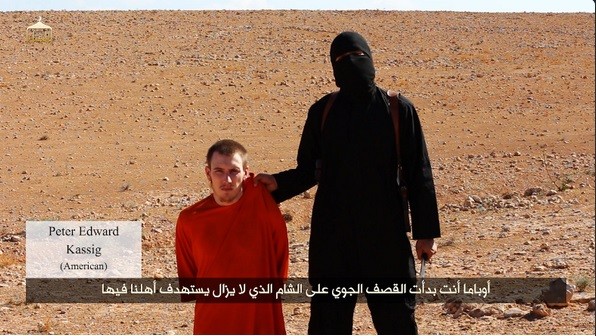 With the latest video of the beheading of British aid worker Alan Henning released by the Islamic State, the next victim has now been identified – Peter Edward Kassig -- an American who was a former soldier in the US Army Rangers.
The 26-year-old, who had served in Iraq, was involved in aid work in Syria with a group named Special Emergency Response and Assistance, which he founded, according to TIME magazine.
He was captured last October and according to Kassig's family, natives of Indiana, he had converted to Islam in captivity, as reported by BBC. He is now referred to as Abdul Rahman Kassig.
Kassig had served with the US Army for a year between 2006 and 2007, during which he was deployed in Iraq. He had to leave the army for medical reasons, after which he completed a certification as an emergency medical technician, and had moved to Beirut after a failed marriage, as per his interview with CNN in 2012.
"I needed to make a drastic decision. It was a huge identity thing; it was time to re-evaluate," he had said. "I needed a game changer."
Kassig was drawn to study the crisis unfolding in Syria and to raise awareness about it in the US.
"I was interested in what I could learn about the Syrian crisis firsthand and what I could do to help and raise awareness about the crisis amongst my peers back at home in the United States," Kassig had told TIME magazine in an interview last year.
"I was also interested in learning more about the Middle East in general from a civilian perspective. I wanted to better understand my role in the conflict in Iraq and its impact on the Middle East in general from a personal perspective and from the perspective of the Arab world."
Kassig's fate now lies with the ruthless Islamic State, who has vowed to kill him if the US continued to target the terror group in Iraq and Syria.
"We ask everyone around the world to pray for the Henning family, for our son, and for the release of all innocent people being held hostage in the Middle East and around the globe," Kassig's family said in a statement after the video of Alan Henning was released.