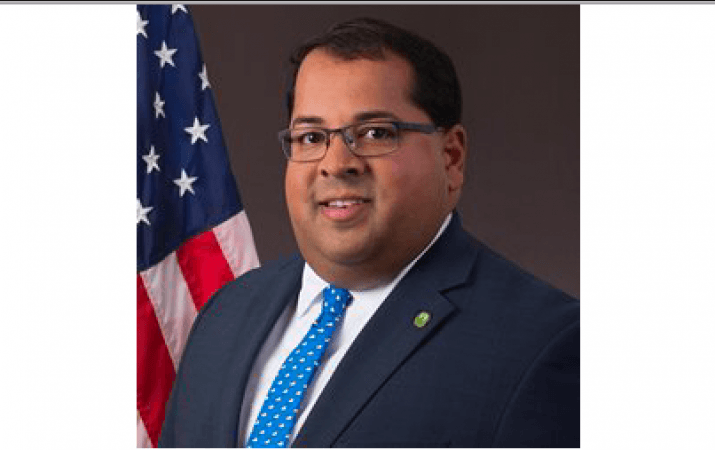 United States President Donald Trump appointed Indian-American Neil Chatterjee as the chairman of the Federal Energy Regulation Commission (FERC) on Wednesday, October 24. The FERC is an agency that oversees America's power grid, ensuring reasonable rates. It also approves infrastructure project applications, and is involved in areas of defence and cyber security.
"Trump designates Neil Chatterjee to be Chair of the Federal Energy Regulatory Commission," the White House said in a statement.
Chatterjee, who is currently one of the three commissioners of FERC, will replace Kevin McIntyre, who stepped down on October 22, citing health issues. McIntyre was the head of FERC since December 2017.
Who is Neil Chatterjee?
Chatterjee is an Indian-American lawyer, political advisor and government official, born in Lexington, Kentucky.
A Republican now, he went to St. Lawrence University and the University of Cincinnati.
Before becoming a member of the FERC, Chatterjee was an energy policy advisor to United States Senate Majority Leader Mitch McConnell.
He has worked for the US House Committee on Ways and Means, the National Rural Electric Cooperative Association, and House Republican Conference Chairwoman Deborah Pryce.
He was confirmed as the member of the FERC by the US Senate on August 3, 2017.
This is his second sting as the chairman of FERC, the first one being last year, when Trump named him as head on August 10.
He was then succeeded by McIntyre on December 7. 2017.
Several Indian-Americans have made headlines in the last few days for their nomination and appointment in important positions in the US. On October 3, Trump nominated Indian-American nuclear expert Rita Baranwal to head the nuclear energy division at the Department of Energy.
If approved by the Senate, Baranwal will be an assistant secretary of energy, responsible for nuclear technology research and the development and management of the department's nuclear technology infrastructure, the White House said in a statement.
Before her, India-born Gita Gopinath was appointed as the chief economist of the International Monetary Fund. Gopinath will succeed Maurice Obstfeld, who is set to retire as the economic counsellor and director of the organisation's research department at the end of 2018.