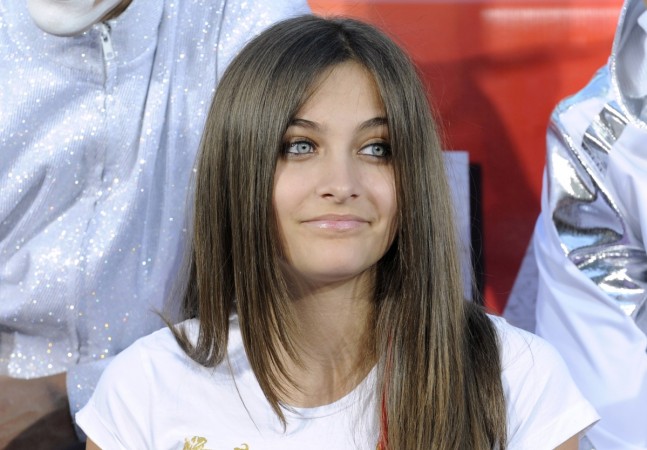 Michael Jackson's daughter Paris, who had a rough couple of years since her father's death in 2009, is said to be in a good place now, and a new report claims that the 17-year-old has already found someone who she believes is her soul mate.
Paris is dating 18-year-old soccer player Chester Castellaw, and her family approves of her choice, claims a Radar Online report. Castellaw reportedly comes from a privileged background in Beverly Hills, and the Jacksons aren't worried that he would go after Paris' inheritance if the couple gets serious.
Castellaw "is an incredibly kind and sensitive young man who has been nothing but supportive and understanding of Paris," a source close to the Jackson family told the media outlet. "Paris is completely head over heels for him and she has been gushing about him constantly, telling her family members that she loves him and he is her 'soul mate.'"
Paris has moved back to her home in Calabasas, California, after undergoing treatment for depression in Utah. On 5 June 2013, just days before the death anniversary of her pop star father, Paris was rushed to a Los Angeles hospital after attempting to commit suicide, following which she was treated for depression.
Although she is doing well now, there have been reports of a tension between Paris and her brother Prince.
"Paris has been kind of avoiding Prince and there are a couple of reasons why," a source close to the family told Radar Online, according to Life&Style.
"Prince has been lashing out at his grandparents and Paris thinks that her older brother is acting like a spoiled brat," the source shared. "She has become incredibly humble since Utah and she isn't accustomed to his spoiled antics anymore."
The family is also reportedly worried that Prince could be indirectly responsible for Paris getting mixed up with the wrong crowd.
"[They] will do anything to prevent another tragedy...and they are terrified that her brother's partying will affect Paris's well-being," the source noted.