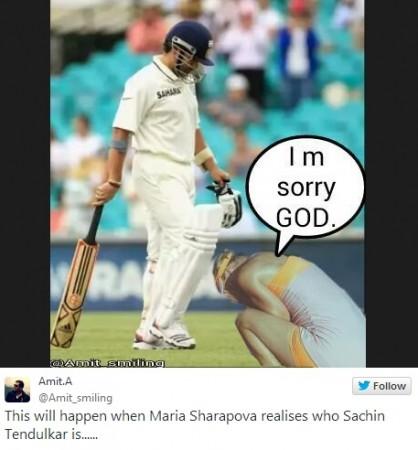 Everyone knew this was coming.
How on earth could someone not know Sachin Tendulkar? Isn't it like saying someone has not heard about God?
People haven't been able to digest the fact that Sachin Tendulkar – the God of Cricket – was not known to Russian tennis player Maria Sharapova. Cricket isn't a game with huge fan-following in Russia and it wouldn't be a big surprise, to be fair, if someone from there says she doesn't know the cricketing legend.
But to simply withstand the fact that someone doesn't know Sachin, is not a tolerable thing with Indian public.
Ever since the news of the Russian tennis player not knowing the cricketer was released, Indians – who were hurt, hammered and humiliated – have been taking to Twitter and have run amok in a Sharapova-bashing spree with never-before-seen tweets, mocking the sports star. The meme, "Who is Maria Sharapova?" has gone viral in Twitter ever since.
Here is a look at some of the funniest memes in trend:
Who is Maria Sharapova? This is Sachin Tendulkar who respects his game. Learn from him. ☺ pic.twitter.com/xlJ8y2TBFI

— kumar (@iamkumar_d) July 4, 2014
Who is Maria Sharapova ?? Sachin tendulkar is God of cricket ! pic.twitter.com/j0sCTfu9Yb — Pruthvish Gamit (@GamitPruthvish) July 4, 2014
Dear Maria Sharapova, When God speaks, even Legends listen to him. By the way, who is Maria Sharapova? pic.twitter.com/HVRUB1LEAd

— Sir Ravindra Jadeja (@SirJadeja) July 3, 2014
Who is Maria Sharapova? Here's her #whatsapp conversation leaked. ;) pic.twitter.com/hKQGrClzzh — Sir Ravindra Jadeja (@SirJadeja) July 3, 2014
GOOGLE HANGOUT of the YEAR . "Who is Maria Sharapova?" pic.twitter.com/AuRWl2oaDd

— ⚽WebSuger (@WebSuger) July 3, 2014
After seeing "Who is Maria Sharapova" trending pic.twitter.com/YQq6mWSAnf — Faking News (@fakingnews) July 3, 2014
This is who Sachin Tendulkar is!! #GodOfCricket Who is Maria Sharapova? pic.twitter.com/2F43rQot1n

— Saurabh Varshney (@Sabbyy99) July 3, 2014
I laughed for a couple of minutes seeing this!! Maria Sharapova, Sachin Tendulkar and Luis Suarez. pic.twitter.com/YvWUBP1XxY — Kiran Kumar S (@KiranKS) July 3, 2014
Who is Maria Sharapova ? #Tennis #cricket #SachinWho #sachin pic.twitter.com/7vYKJVdhnt

— Indrajith Td (@iamIndrajith) July 2, 2014
This will happen when Maria Sharapova realises who Sachin Tendulkar is...... pic.twitter.com/YDvZl8eajo — Amit.A (@Amit_smiling) July 2, 2014